Ultrasport F-Bike Home Trainer 150/200b Home Folding Exercise Bike
Ultrasport Exercise Bike F-Bike Review
Fitness Savvy took a look online and discovered over 800 reviews of the Ultrasport F-Bike Home Trainer. Overall, this folding exercise bike scored 4.6 out of 5.
PROS:
Lightweight and easy to move
Collapsible and compact for easy storage
Gel saddle
Battery-powered LCD, so no pesky cords getting in the way!
Customisable workouts
Super-easy to put together
Cheap and cheerful – perfect for beginners and those on a budget
CONS:
The 8 resistance levels might not offer enough of a challenge for advanced users
Might not be suitable for shorter users due to restrictions in adjusting the seat
Users over 6 feet tall might suffer the opposite issue, with the bike being too small
Screws on the bottom have led to holes in people's floor – recommend getting a protection mat.
Ultrasport Exercise Bike F-Bike Videos
Alternative Exercise Bikes Under £300
You'll find a huge selection of Exercise Bikes under £300 at Fitness Savvy. Check out the alternatives below to find the best exercise bikes for your needs.
Ultrasport F Bike Best Price & Discount Codes
If you're looking for the best Ultrasport F Bike price, then you're in the right place. At Fitness Savvy, we compare prices from top retailers. With prices changing every day, you should always check back with Fitness Savvy before you buy a folding exercise bike.
We've also included discount codes and vouchers which might be relevant to this item. Check out the offers and deals below to see if you can save even more on this product.
10% OFF!
10% Off at Best Gym Equipment
Get 10% Off Everything at Best Gym Equipment
Get 10% Off Everything at Best Gym Equipment
Show Less
FREE Next Day Delivery
We offer a FREE NEXT DAY DELIVERY service for all mainland...
Show More
We offer a FREE NEXT DAY DELIVERY service for all mainland UK customers*. Order before 2pm and your new fitness equipment will be with you the next working day. If you are ordering from outside the UK mainland, please give our customer service team a call and they'll be happy to help.
Show Less
About the Ultrasport F-Bike Home Trainer 150/200b Folding Exercise Bike

We noticed lots of people looking for info regarding the Ultrasport F-bike, so we decided to take a look at what it has to offer in this definitive guide.
Firstly, it is worth noting that there are several versions of the Ultrasport F-Bike. This model is the Ultrasport F-Bike Home Trainer 150/200B with hand pulse sensors. The difference between the 150 and 200b is the backrest – the 150 is without and is a few pounds cheaper, and the Ultrasport F-Bike 200b exercise bike is the version with backrest.
Ultrasport Exercise Bike F-Bike Features & Benefits
Firstly, let's look at the main features of the Ultrasport F-bike Trainer:
Foldable – the main attraction of this bike is that it is foldable. Easily collapse the F-Bike down and store it in a cupboard, under a bed, or in the corner, out of the way.
Weights only 19kg – not only is it foldable, but at only 19kg, it is easy to move around your home.
8 resistance levels – when it comes to features, you'd expect a lightweight bike in this price range to be limited. However, this is not the case. Mix-up your workout routines, throw in some HIIT training and give your cardio system an easy time or a super-intense workout with 8 resistance levels.
Battery-operated LCD, displaying calories, speed, distance, time, and pulse.
Gel saddle
Available in various colours including black, blue, green, mint, orange, and pink.
Maximum user weight of 100kg.
Pedal straps – some cheaper exercise bikes don't include straps. This is a great feature as it keeps your feet in place when cycling at higher speeds.
Why Choose an Exercise Bike?
We're huge advocates of strength and resistance training at Fitness Savvy, however, aerobic exercise has shown in many studies to benefit our overall health – including brain function. For this reason alone, we recommend a couple of sessions per week to keep you in tip-top shape.
If running is not your thing, a small exercise bike for your home is a perfect choice, and the Ultrasport F-bike fits the bill accordingly
If this is not the right bike for you, you can always read our detailed buying guide and compare prices on hundreds more exercise bikes.
Ultrasport Exercise Bike F-Bike Instruction Manual
In case you lost your copy, or want to simply check them out before committing to your purchase, here is a link to the Ultrasport F-Bike Home Trainer manual. You'll find out about how to assemble it, parts lists, how to fold, and much more.
Best Price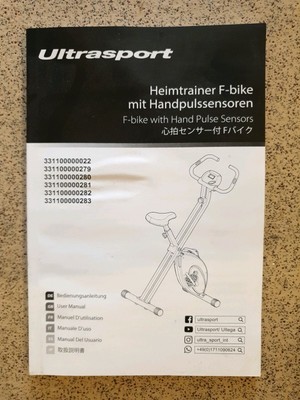 Ebay.co.uk
Price History
-
Create Your Free Price Drop Alert!
Set Alert for Exercise Bike Ultrasport Foldable F200B Pulse Sensor Grips instruction book only - £8.95
Alternative Folding Exercise Bikes
We list hundreds of folding exercise bikes to ensure you find the right exercise bike for you. Compare features and prices of alternatives.
Specification:
Ultrasport F-Bike Home Trainer 150/200b Home Folding Exercise Bike
| | |
| --- | --- |
| Brand | Ultrasport |
| Display Type | LCD |
| Resistance Levels | 8 |
| Display/Console Features | Calories, Distance, Heart Rate, Speed, Time |
| Max User Weight | 100 kg |
Owner's Manual
806 reviews for
Ultrasport F-Bike Home Trainer 150/200b Home Folding Exercise Bike