Inspire Fitness FT2 Functional Trainer Package
All prices mentioned above are in British pound.
This product is available at eBay, Best Gym Equipment.
At bestgymequipment.co.uk you can purchase Inspire Fitness FT2 Functional Trainer for only £3,299.00, which is 18% less than the cost in eBay (£3,999.99).
The lowest price of Inspire Fitness FT2 Functional Trainer Smith Dual Pulley "Fully Loaded" Gym NEW! was obtained on June 22, 2021 12:25 am.
Last updated on June 22, 2021 12:25 am
Inspire Fitness FT2 Functional Trainer Package
Inspire Fitness FT2 Functional Trainer Package Prices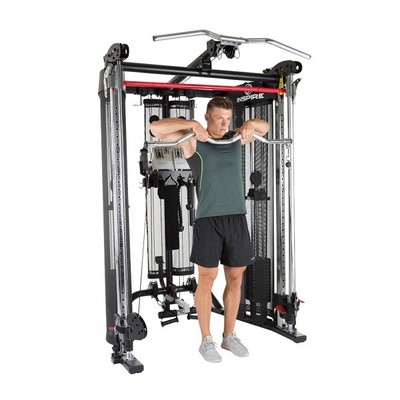 eBay
Bestgymequipment.co.uk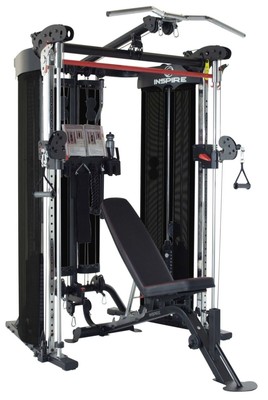 eBay
Bestgymequipment.co.uk
Description
Inspire Fitness FT2 Functional Trainer Review
We took a look online to find as many opinions and reviews as we could of the Inspire Fitness FT2 Functional Trainer. Overall, this functional trainer scored a phenomenal 4.8 out of 5 (based on 13 customer ratings).
You can select either the FT2 on its own or as a package to compare prices.
We've awarded this cable machine a top Savvy Score, rating it as 9.7/10. The only things letting it down are the price and limited beginner appeal.
PROS:
Very sturdy
Versatile – you can perform many exercises with many variations
Compact – even with the integrated Smith Machine bars, which make similar units by other brands take up far more space
Impeccable build quality
Clear instructions for easy assembly (though might take around 5 hours to build)
A smooth and quiet pulley system
CONS:
Not easy to use – especially if you're a beginner. However, there are many videos and tutorials which should help with this – check them out below.
The price point will put it out of reach of some people.
The Inspire Fitness FT2 Functional Trainer Package Includes
If opting for the package, this is what it includes:
Inspire Fitness FT2 Functional Trainer
2 x 50 lbs (23 kg) Weight Stack Upgrades
SCS Bench
Leg Attachments
FT2 Leg Extension Conversion Kit
Alternative Multi Gyms Under £5000
You'll find a huge selection of multi gyms under £5000 at Fitness Savvy. Check out the alternative multi gyms below to find the right one for you.
Best seller
Discount Codes
No coupons found.
Inspire FT2 Workout Plan/Chart
We took a good look around to see what exercises can be performed on this machine.
At the time of writing, there seemed to be an error with the Inspire Fitness website, so we were unable to access the relevant documentation.
We did, however, manage to find some charts with exercise examples.
From these charts, you can see a wide variety of exercises, including:
Lat pulldowns
Flat chest press
Incline chest press
Alternating bicep cable curls
Military shoulder press
Tricep pushdowns
Core rotation
Vertical knee raises
Squats
Seated Rows
One reviewer dropped a star for this exercise machine, stating that there was no app to help get the most out of possible exercises.
However, we discovered another user who encountered the same issue but came across a fix.
This particular reviewer recommends an app called Fitness Buddy.
It allows users to filter to show only exercises that use machines. You can also add exercises that use the barbell, as many of these can be performed with the Smith bar.
Key Features at a Glance:
Weight stack: 2 x 160 lbs (73 kg)
Eight pull-point fibreglass reinforced nylon pulleys – adjustable with just one hand
32 positions for expansive functional training capability
2000lb Tensile Strength Cables.
Precision steel ball-bearing system provides smooth, maintenance-free action.
Integrated Smith system means no need for free weights
Weight multiplier effectively doubles the resistance
Adjustable pull-up bar – great for taller people or for rooms with a lower ceiling height
Heavy-duty 11-gauge powder-coated steel frame
Many optional accessories including leg extension/leg curl attachment and weight stack upgrades (50 lbs per stack)
Product weight: 256kg
Dimensions: 145 x 152 x 212 cm (L x W x H)
FT2 Functional Trainer Package Detailed Features

Uniting the core features of a Smith machine and the best aspects of a functional trainer, the Inspire Fitness FT2 is perhaps the most advanced in the industry. Allowing complete freedom of movement in any direction, the FT2 operates smoothly and quietly.
Frame
Built using round 11-gauge and heavy-duty tubular steel, the frame is powder-coated ensuring maximum safety and minimal maintenance.
Dual-Pulley System
The quick one-handed adjustable high/low pulley system includes eight pull points, providing a total of 32 positions. This is achieved with 2 x wide adjustable, 2 x narrow, and 4 x low pull points.
Every move is reported as smooth and whisper-quiet by reviewers. This is thanks to the fibreglass reinforced 2000lb tensile steel cables and precision steel ball-bearing system. As with the heavy-duty frame, these features make this functional trainer very low maintenance.
Upgraded Weight Stacks
With dual pulleys comes dual weight stacks. Each stack is constructed with centre drilled weight plates and solid guide rods. The standard FT2 comes with 160 lbs (73 kg) stacks, providing a total load of 320 lbs (146 kg).
This upgraded package adds a further 50 lbs (23 kg) to each stack, taking the total load to a massive 420 lbs (191 kg).
The benefit of dual weight stacks is that you can work on each side of the body independently. This makes for a more balanced workout and can be especially useful if trying to iron out differences in symmetry.
Smith Machine
One of the features which really sets this exercise machine apart from others is the inclusion of the Smith Bar and Weight Multiplier.
The integrated Smith bar allows users to perform squats, barbell bench press and barbell shoulder presses. No need to leave Olympic plates all over your gym – it's all housed in the weight stacks.
Weight Multiplier
The weight multiplier is a unique and innovative feature which allows users to double the resistance effectively. This means, with the upgraded weight stack, you could be pushing or pulling around 820 lbs (373 kg) in weight!
Adjustable Pull-Up Bar
The adjustable pull-up bar is a great feature. For those with lower ceilings, the pull-up bar and high pulleys can be adjusted. For taller individuals, with the luxury of higher ceilings, the bar can be raised.
SCS Bench
The Inspire SCS Bench comes as part of this package and usually costs around £300 – 350 when purchased on its own. In addition to the leg attachment (which also comes with this package), you can add a preacher curl attachment to this bench, too.
Made from immensely durable, heavy-duty 11 gauge tubular steel, this is one of the toughest benches in the industry with a maximum user capacity of 1000lbs (454kg). It easily adjusts from incline to flat and users can perform exercises at multiple incline positions.
Inspire Fitness Leg Attachment
Never skip leg day again, thanks to the Inspire Fitness Leg Attachment. This attachment goes with the SCS bench, which simply connects to the FT2 weight stacks so you can perform various leg exercises.
Alternative Functional Trainers
You can check out reviews and ratings of functional trainers at Fitness Savvy. Compare prices, specs, and features to find the best option for your needs.
Best seller
Inspire FT2 vs Life Fitness G7
If you're seriously considering investing in a functional trainer, you've likely come across the Life Fitness G7. The G7 is another high-end exercise machine, and people are often wondering which machine wins the battle.
So, here it is: Life Fitness G7 vs Inspire FT2
Customers who used both: we found some reviewers who used and owned both of these models. The FT2 is a better functional trainer, hands down. That said, the leg strap on the G7 is better because it is a full ankle strap with no velcro. However, you can always order just the strap from Life Fitness, and use it with the FT2.
Price: the G7 is cheaper than the FT2 – around £800 at the time of writing
Weight Stack: the G7 includes 2 x 160 lb weight stacks. However, the FT2 can be upgraded to 2 x 210 lb stacks. In total, the FT2 can go 100 lbs (45kg) heavier.
Smith Machine: the G7 does not include Smith machine function.
Pull-up bar: so far as we can tell, the pull-up bar on the G7 is not adjustable. however, on the FT2 it is. This is useful if you are taller or have lower ceilings.
Pulley adjustments: the G7 has only 20 vs 32 on the FT2
Commercial use: the G7 is designed for light commercial use, whereas the FT2 is designed for heavy-duty commercial usage.
If you have an extra £800 to invest and want a functional trainer which will last a lifetime, we recommend the FT2. However, if you're on a tight budget, and you believe the G7's features will serve you well, then go for the Life Fitness G7 instead.
Attachments & Accessories
In addition to the weight stack upgrade, you'll find a plethora of attachments and accessories to beef up this already impressive weight lifting machine.
Some are optional extras, while others come included.
Included Accessories
EZ curl bar
Tricep rope
Ankle cuff
Straight bar
Belt
Optional Accessories/Upgrades Included With This Package
50 lbs heavy stack add-on kit.
SCS Bench – hook up to the dual weight stacks and perform leg extension and leg curl exercises
Leg attachments
FT2 Leg Extension Conversion Kit
Manual & Instructions
In case you want a heads up on assembly, parts, and other technical info, here is a link to the Inspire Fitness FT2 Manual PDF.
Alternative Multi Gyms & Home Gyms
With so many multi gyms & home gyms to choose from, we want to make sure you make the right choice. Compare prices and read reviews of suitable alternatives listed below.
Additional information
Specification:
Inspire Fitness FT2 Functional Trainer Package
| | |
| --- | --- |
| Brand | Inspire Fitness |
| Weight Loading Type | Selectorised |
| Usage | Commercial, Home |
| No. of Weight Stacks | 2 |
| Version | Package |
| Weight Stack (kgs) | 73 kg |
| Weight Stack (lbs) | 160 lbs |
Owner's Manual
Owner's Manual
Reviews (15)
15 reviews for
Inspire Fitness FT2 Functional Trainer Package