Best Protein Powders 2023 Intro
Firstly, you should ask yourself: what makes Fitness Savvy's best protein powder guide special?
The answer is simple:
We've considered scientific studies, macro profiles, nutritional info, and price, then thrown in some advice you won't read anywhere else. We've also quoted helpful online reviews to see what other people think of the shakes in this list.
If that wasn't enough, we've even designed and built a protein intake calculator.
Finally, our CEO, Robin, has physically tested these protein powders through months of training and made YouTube videos of the results.
This guide highlights some of the best protein powders available and links to our comparison pages, where you can watch videos, read reviews, and compare prices from hundreds of retailers.
A Quick Note on BCAA Content
BCAAs are a group of three essential amino acids: leucine, isoleucine and valine. They help to boost muscle growth and enhance exercise performance.
Some protein supplement packaging states how many grams each serving provides. Other packets might say "contains naturally occurring BCAAs".
You must remember this:
All whey, casein and plant-based protein shakes contain naturally occurring BCAAs.
Celebrity PT and personal trainer course expert Steele Williams suggests that if the packaging does not state how many grams the product contains, you can use this quick trick, assuming a 25-gram scoop of powder:
whey protein: 5 – 6 grams
casein protein: 4 – 5 grams
soya protein: 4 grams
other plant-based proteins: 3 – 4 grams
Fitness Savvy's Top 6 for 2023
Now we've got that out of the way, here are our top 6 best protein powders for 2023.
1
Best Overall Protein, Best Mass Gainer, Best All in One Protein – Reflex One Stop Xtreme

Let's cut to the chase: with so many protein shakes on the market, you'll want to know what makes Reflex One Stop Xtreme different. We looked online and discovered a total of 266 customer reviews. Overall, this all-in-one protein supplement scored 4.6 out of 5.
We consider it the best overall protein powder, mass gainer, and all-in-one shake by a country mile.
Fitness Savvy CEO, Robin Young, swears by this shake – even using it while cutting down due to its impressive ingredients and macro profile.
Taste
You've guessed it. We've included some helpful reviews we found online:
This product not only tastes great but it also includes all you need for a great gym work out.
But don't just take Danny's word for it. Here are some other opinions:
Definitely recommending this, only decent tasting water soluble protein shake that uses Steviol for sweetener that i could find at the time of ordering. Been using this for almost a year and its good
We'll finish off with this short but sweet summary:
Great product, great taste and does exactly what it says on the tin
Most unfavourable reviews ironically regard the taste – however – with the vast majority praising the flavours, we're inclined to take this as a blip.
We'd say this is the best protein shake we have ever tasted – referring to the chocolate perfection flavour.
Flavours
Chocolate
Strawberry
Vanilla
Nutrition
Each 145-gram protein shake contains:
55 grams of protein in each serving. The protein is blended from whey protein concentrate, milk protein and casein protein.
550 calories
71 grams of organic, low GI carbs (organic oats and barley)
Batch lab tested for protein content
Naturally occurring vitamins
3 grams of leucine
10.5 grams of BCAAs
5 grams of Creapure creatine monohydrate
Beta-alanine
10 grams of glutamine
Magnesium & zinc
Stable probiotics and digestive enzymes
Dietary
PROS:
Several users reported noticeable increases in muscle growth since using One Stop Xtreme
Great taste
Competitively priced
Nutritionally complete
Gentle on the stomach compared with other all-in-one protein shakes
CONS:
Scoop is ridiculously big
Too sweet for a few users
Doesn't mix as well as other all-in-one shakes
Overview
All-in-one protein shakes are designed to pack all the ingredients needed to help improve training performance and recovery. Instead of buying separate products such as BCAAs and creatine, these supplements already contain suitable doses.
The list of ingredients for Reflex Nutrition's One-Stop Xtreme is – well – extreme! Maybe "exhaustive" is a better word, as you would probably need a recovery shake to revitalise after reading them and researching them all.
At the end of the day, if you're looking for a protein powder that contains just about everything you've read about in fitness magazines – this is it.
Check out the video below of Robin Young cutting down using this shake daily.
Here is a screenshot of Robin's Amazon Subscription to this protein powder. When ordering regularly, you can save 10%.
Compare Reflex One Stop Xtreme Prices
£48.95
£83.99
in stock
3 new from £48.95
as of December 8, 2023 11:47 pm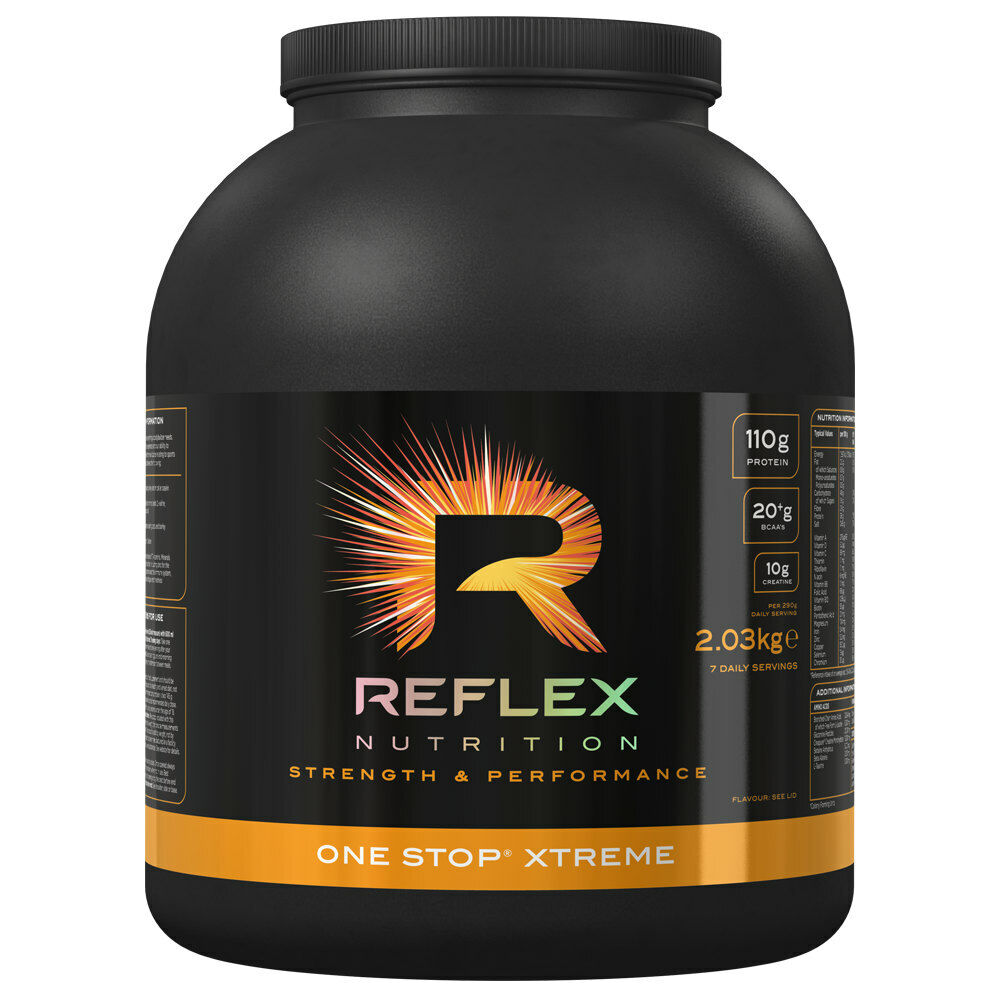 Bodybuildingwarehouse.co.uk
---
2
Best Whey Protein – Optimum Nutrition Gold Standard Whey
Optimum Nutrition's Gold Standard Whey is, hands down, the most popular protein shake there is. When it comes to whey protein, it sits on a throne, wears a crown, and looks down at the other protein supplements as they fight to steal its glory.
For this reason, it commands a higher price than other supplements.
Taste
The main reason ON Gold Standard Whey is so popular is its taste. Simple. Let's be honest; if it tasted like crap, it would never have grown so much in popularity – no matter how good the marketing was. It mixes easily (though we find it a little thin), so for this reason, we add less water than the instructions recommend.
As usual, we've sifted through thousands of online reviews, so you don't have to. Here's what people had to say about Gold Standard Whey:
This protein powder is the best I have had in a long time, before I had Bulk Powders and I have to say the quality difference was evident from the very first use. This is easily mixed dissolving completely in water and milk and the taste is great not being too sweet or bitter. What else can I say? It's great!
If you like bananas, you should probably get the banana-flavoured one, yeah?
First time I have used this and it taste great but I don't know why I didn't go for the banana flavour, I like bananas

One reviewer provided some very valuable advice to save us all some time:
Make sure you thoroughly check the bottle for the scoop before you reach for the 'contact us' button as it is there, buried deep, just give it a shake.
Flavours
Banana Cream
Caramel Toffee Fudge
Chocolate Mint
Chocolate Peanut Butter
Chocolate Hazelnut
Cookies and Cream
Double Rich Chocolate
Rocky Road
Strawberry
Vanilla Creme
Vanilla Ice Cream
Unflavoured
White Chocolate Raspberry
Nutrition
The nutrition varies slightly from flavour to flavour.
Each 29-gram protein shake (based on chocolate) contains:
120 calories
24 grams of protein
3 grams of carbs
1 gram of fat
194 mg of sodium
Dietary
PROS:
Huge range of flavours
Made using whey protein isolate for faster digestion
The world's most popular protein shake
States the amount of BCAAs per serving on packaging
Added vitamins and minerals, including calcium and iron
Includes recipes for shakes on the back label
CONS:
Expensive (when no deals are on – check Fitness Savvy to find the best prices)
Mixes quite thin
Some flavours are very sweet
Overview
The main ingredient in Optimum Nutrition Gold Standard Whey is whey protein isolate. This is the fastest-acting protein around. To learn more about the different types of whey protein, check out our whey protein buying guide.
Gold Standard Whey is not cheap. Although the guys at Optimum Nutrition were kind enough to include some excellent protein shake recipes on the back of the packaging (a nice little extra), we don't feel it justifies the price.
Compare Optimum Nutrition Gold Standard Whey Prices
£67.98
£70.00
in stock
10 new from £64.95
as of December 8, 2023 11:47 pm
£68.86
£82.99
in stock
5 new from £65.99
as of December 8, 2023 11:47 pm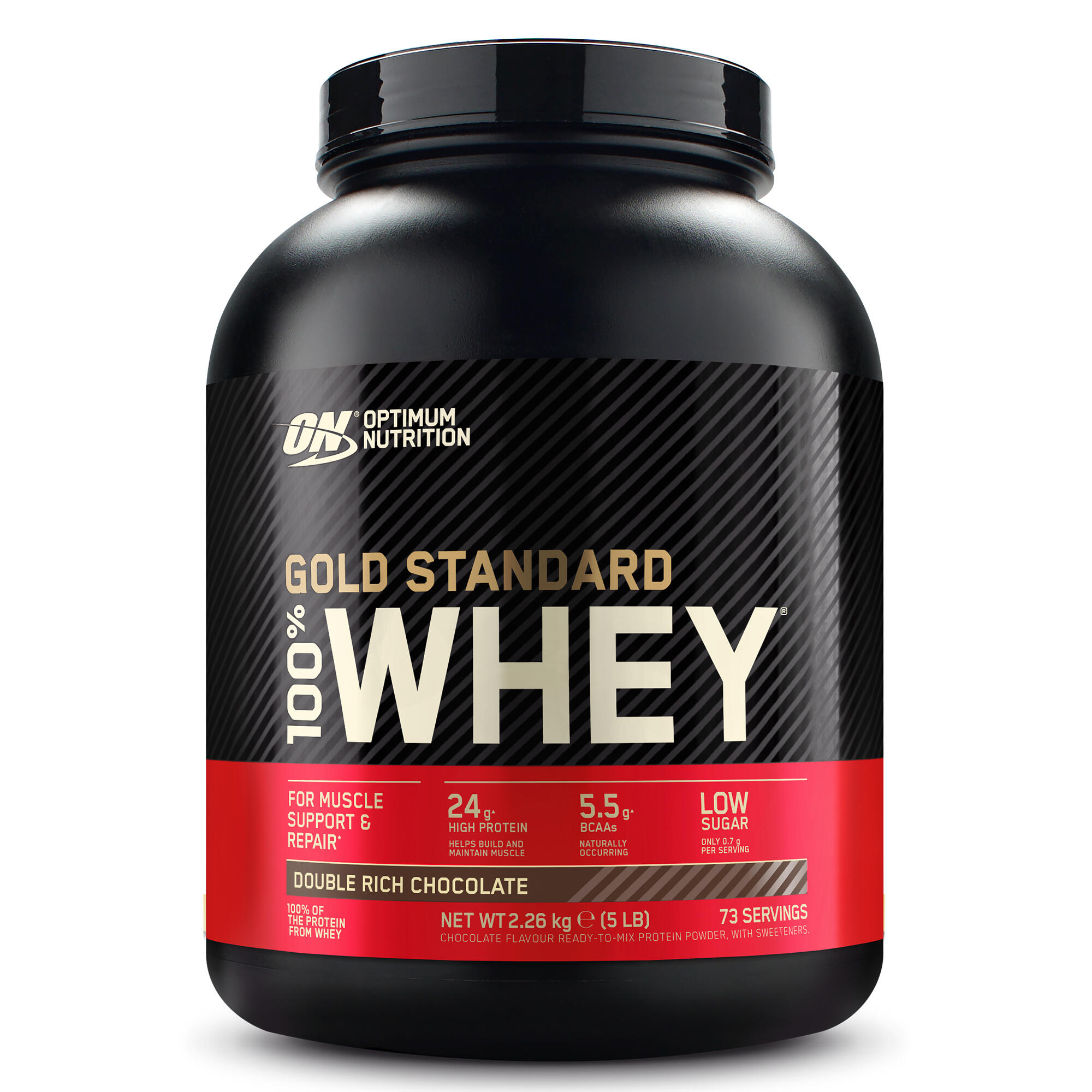 Bodybuildingwarehouse.co.uk
---
3
Best Vegan Protein Powder – Wyldsson Nutritional Vegan Protein

Balancing macro profile and taste can be tricky when looking for a decent vegan protein powder. Enter Wyldsson's Nutritional Vegan Protein.
With so many people looking for plant-based alternatives, this vegan protein comes at a great price point, with decent flavours and a great macro profile.
Overall, this vegan protein supplement scored 4.4 out of 5.
Taste
Here's what people had to say about Wyldsson Nutritional Vegan Protein online:
Isn't sickly sweet, artificial-tasting, or gritty
A pleasant chocolate taste that's not too sweet – when you see the natural wholesome ingredients it makes it even better
Best vegan protein on the market!
Flavours
Nutrition
Each 35-gram protein shake contains:
128 calories
20 grams of protein
5.2 grams of carbs
2.1 grams of fat
0.6g salt
Dietary
Vegetarian
Organic
Vegan
Gluten-Free
GM Free
PROS:
Clean protein source
High in fibre
Contains iron, zinc and other important vitamins and minerals
CONS:
Only 2 flavours are available
High in sodium (0.6 grams of salt per serving)
Overview
When looking at the ingredients list, it's hard to find something to dislike!
Compare Wyldsson Nutritional Vegan Protein Prices
£29.99
in stock
as of December 8, 2023 11:47 pm
---
4
Best Protein Powder for Weight Loss – PhD Diet Whey
Back in the day, we were big fans of PhD products. One great thing about this brand is that you'll always find them on the shelves at your local supermarket. So, if you can't get some online and you've just run out, you can always pop to Tesco or whatnot and grab some more! We believe this particular product to be the best diet protein powder.
Taste
Of all the PhD protein shakes, Diet Whey is their most popular. It mixes to form a thick shake and tastes great. Some online reviews comment on how thick this particular product mixes; understandably, this could be viewed as a negative. If you don't like thick shakes, the simple solution is to add more water.
Here's what the incredible people who write unpaid reviews thought:
Taste is wonderful, reminds me of melted chocolate icecream. No weird after taste at all. I am not big fan of protein powders, but this one is really tasty.
A seasoned veteran also left a helpful review, too:
I would definitely recommend this product. I have tried a few diet ones and this brings a ten from me
Other glowing reviews praise how it saved them from turning to the supplement-free dark side:
No word of a lie, this protein shake is what saved me from stopping taking these supplements
Regarding the small number of negative reviews on Amazon, the main issues related to the packaging being open upon delivery. This can sometimes happen, and we recommend returning it if you experience something similar.
Flavours
Belgian Chocolate
Vanilla
Banana
Strawberry
Chocolate Mint
White Chocolate
Chocolate Orange
Raspberry
Chocolate
Cherry Bakewell
Nutrition
Each 25-gram protein shake contains:
91 calories
17 grams of protein
2.75 grams of carbs
1.4 grams of fat
Macro ratio % (protein, carbs, fat) 74/12/14
Dietary
PROS:
Added weight-loss ingredients
More balanced macro profile than others in this list
Great tasting
Ideal for those new to exercise or who need lower protein intake
Low price point
Mixes easily
Available from many supermarkets, as well as online
CONS:
Lower protein content per serving
Some customers report broken packaging when ordering online
Overview
Perhaps one of the best things about this shake is the combination of scientifically researched weight-loss ingredients. It includes CLA, flaxseed, green tea and l-carnitine – all of which show promise in aiding weight loss.
As the name suggests, this protein powder is aimed at those looking to slim down. If you're already overweight, your protein requirements are lower, and the macro profile of 74/12/14 reflects this.
However, if you're not new to training, you should grab a supplement with a higher protein percentage.
In conclusion, this excellent protein supplement suits those new to exercise or who want to slim down  – without sacrificing taste and texture.
Compare PhD Diet Whey 2kg Price
£44.43
in stock
7 new from £43.95
as of December 8, 2023 11:47 pm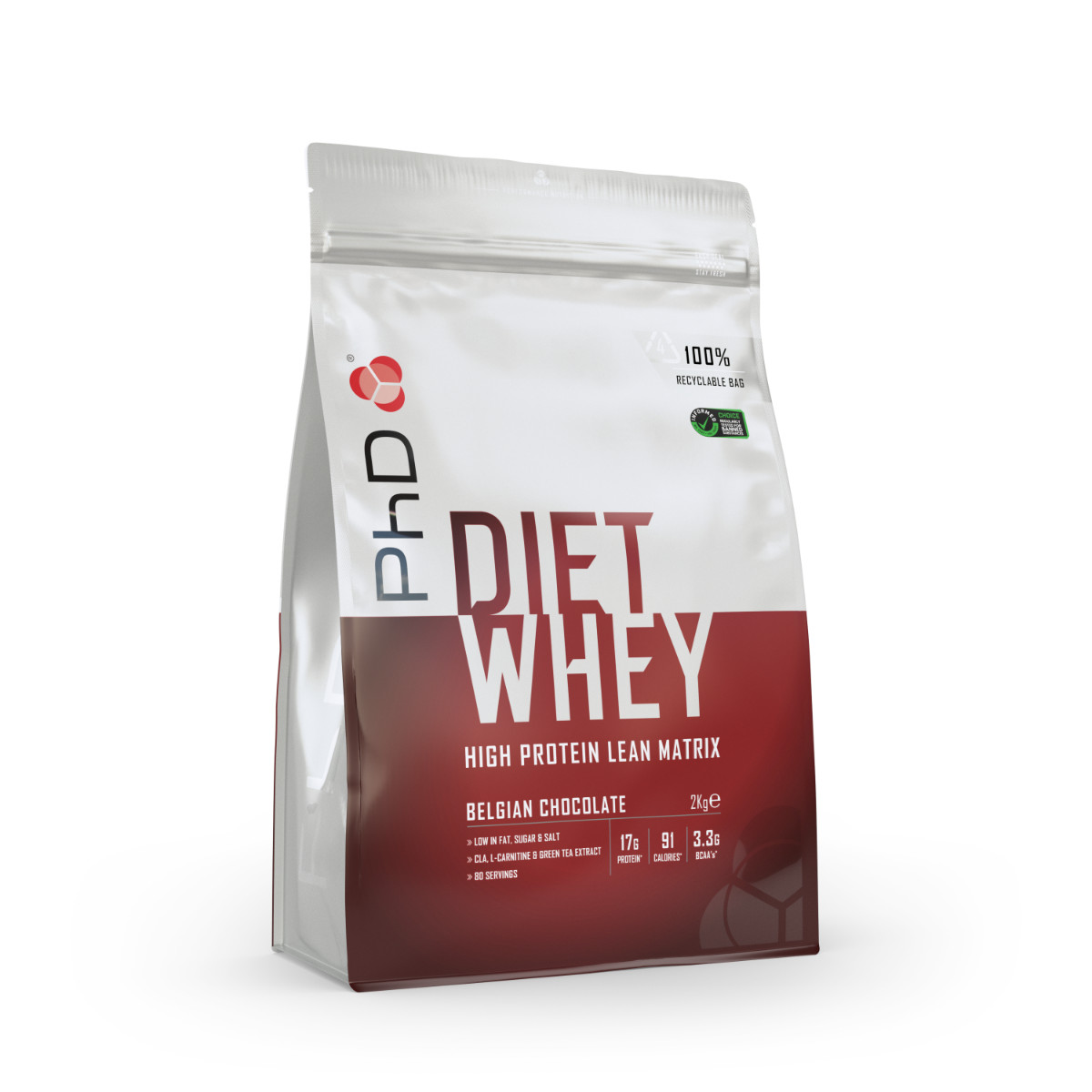 ---
5
Best Casein Protein – Bulk Micellar Casein
Whenever you find a compilation of the best protein powders, whey protein nearly always tops the list. Whey protein is fast-acting, and for this reason, it is the preferred supplement to take post-workout.
Some hardcore gym-goers invest in two types of protein – casein and whey. They take a whey protein shake after their workout and casein (a slower-release protein) at bedtime.
But if you could only choose one, which should it be?
Studies comparing whey and casein protein post-workout found little difference in their effect on protein synthesis. Other studies also show casein protein to be beneficial when re-comping. For this reason, we give casein the upper hand when you can only choose one.
Taste
When it comes to taste, this is undoubtedly one of our favourite casein protein shakes. We've tried the chocolate and vanilla, and both taste awesome. While we've not tried the strawberry, we're sure it will hold its own against the others.
Remember that flavour is subjective. However, we've included customer comments regarding the taste to provide a complete picture.
Delicious! I look forward to a shake (I use milk, not water) a few times every week.
One reviewer stated that they started mixing with almond milk for a better experience:
I figured it goes better with almond milk. I feels less thick and doesn't stick in the corners of the mouth when with almond milk. It also goes fine with greek yogurts and porridges.
Interestingly, this wasn't the only review suggesting mixing with almond milk. Others had the same idea:
Nice flavour mixed with milk or almond milk.I think the protein is having a small effect and I'm not so achy when  I wake up in the morning after taking this.
Regarding negative reviews, one user was unhappy about something they found inside:
Not happy I found piece of plastic inside
Someone did pipe up to suggest that might have been the scoop! Another review we found was very detailed, insightful and descriptive:
yuck
We doubt the authenticity of this review because they neglected to use an exclamation mark. Anyone who genuinely thought this was "yuck" (to the point they deemed it necessary to write a one-word review on Amazon) would undoubtedly use an exclamation mark to firmly make their point – we're sure you'd agree!
Flavours
Chocolate
Vanilla
Strawberry
Nutrition
Each 30-gram protein shake contains:
108 calories
27 grams of protein
0.4 grams of carbs
0.4 grams of fat
0.092g salt
Dietary
Vegetarian
Gluten-Free
GM Free
PROS:
Amazing Value
High protein percentage
Low calorie, low carbs, and low fat
Good all-round supplement
CONS:
No added vitamins and minerals
Limited flavours available
The powder is light and can get messy if you're not careful!
Overview
This protein is excellent for cutting down, re-comping, or lean bulking.
However, if you're looking for a supplement with a ton of calories to add mass, this is not for you.
Bulk Micellar Casein is a fine protein supplement to take at any time of day. With only 0.4 grams of carbs and 0.4 grams of fat, it has a tremendous macro ratio if protein percentage is your primary concern. We also find this powder mixes well to form a thick shake and is filling, unlike other whey supplements, which can mix relatively "thin" and taste watery.
This product makes our list based on the macro profile, how it can be used, overall online reviews, and our experience. Fitness Savvy founder Robin Young used this product while conducting his body re-composition experiment, adding 8.4lb of muscle while losing 6.2lb of fat.
Compare Bulk Casein Prices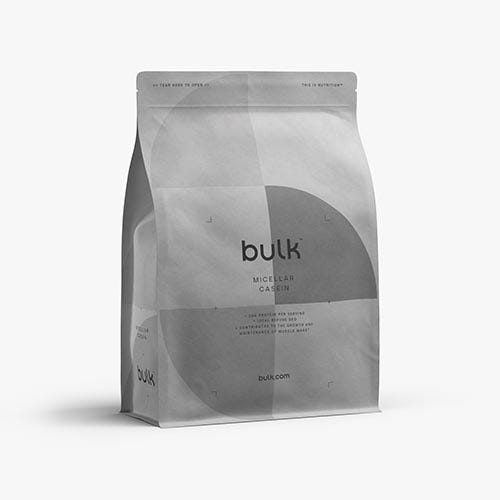 £34.60
£37.99
in stock
as of December 8, 2023 11:47 pm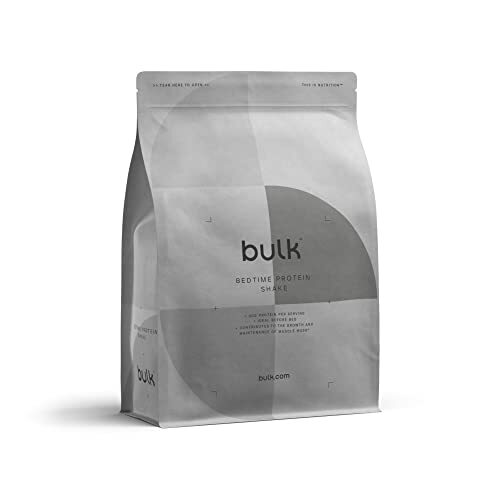 ---
6
Best Cheap Protein Powder – Myprotein Impact Whey
Myprotein's Impact Whey is a user-friendly whey protein that works in any situation. It's a fan favourite with a wide range (currently 40+) of flavours.
We chose Myprotein's Impact Whey as our best cheap protein powder because it strikes the best balance between price and quality. It's versatile and made from high-quality ingredients. It's also ranked grade A by independent tester – Labdoor.
Taste
As with all protein shakes, some flavours are better than others. We all have our preferences, and what one person likes, another might hate. Myprotein understands this well and for this reason, has created 40 or so flavours of this shake.
Flavours
Unflavoured
Chocolate
Chocolate Orange
Vanilla
Strawberry
+ many more (40 in total)
Nutrition
Each 25g protein shake contains:
99 calories
19 grams of protein
2.0 grams of carbs
1.7 grams of fat
0.15 grams of salt
Dietary
PROS:
Science-backed ingredients – ranked A by Labdoor
Great value-to-quality ratio
Less than 100 calories per serving
Mixes well
CONS:
Some customers have been highly critical of many flavours. However, with so many favours, we're sure you'll find one you enjoy.
Overview
Myprotein has established itself as one of the leading protein brands in the UK and worldwide. When you purchase a MyProtein product, you know you're getting exactly what the label says.
Trusting your protein brand is essential. If you have any doubts about what's in the tub, you should avoid it. This is often the case with products bought on Amazon. Customers have criticised protein powder packaging and flavours, worrying that they might be cheap knock-offs.
When you buy Myprotein's Impact Whey direct from Myprotein, you can be sure you're getting the real deal.
Impact Whey is suitable for general dieting, cutting down, and bulking. At just under 100 calories per serving, it is more suited for those in a caloric deficit.
Compare Myprotein Impact Whey Prices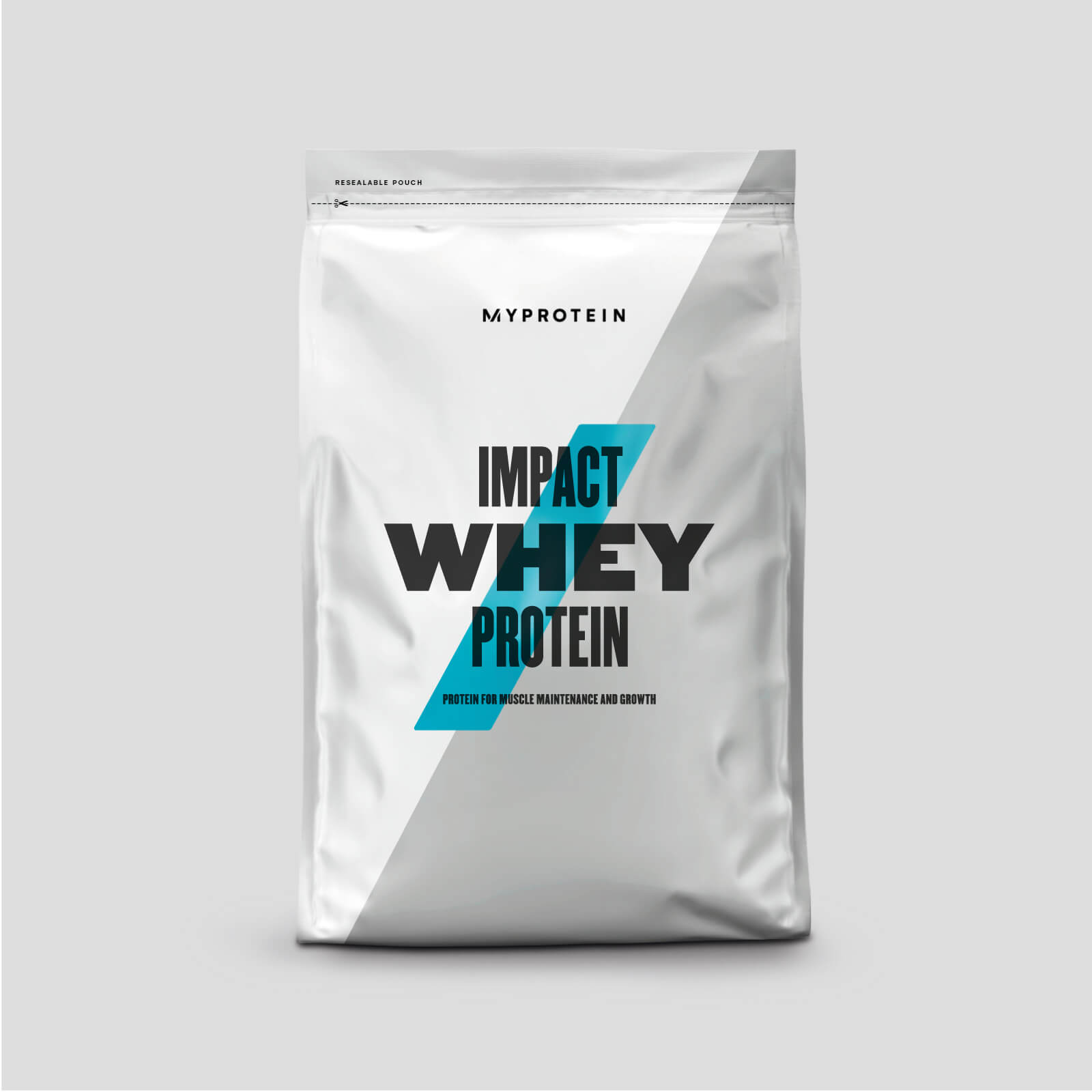 £19.60
£22.21
in stock
8 new from £19.60
as of December 8, 2023 11:47 pm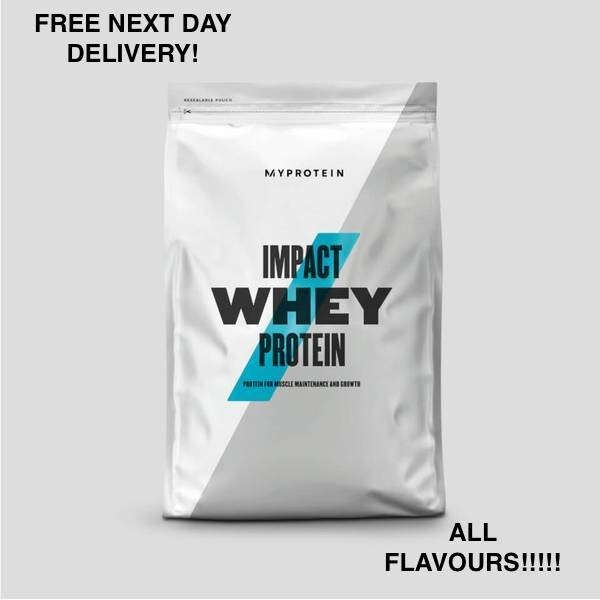 ---
Final Words
So, there you have it. We've picked six of the best protein powders for 2023 to help you attain that perfect body. If you found this helpful, just hit the share buttons to let others know about Fitness Savvy.