Fitness Savvy has produced the most comprehensive guide to the best home multi-gyms in the UK for 2020. We looked at over a thousand online user reviews to help compile this list of the top 8 best home gyms UK shoppers can get.
While other round-ups keep the same products year after year, Fitness Savvy has reviewed the current list and looked for newcomers. To put into perspective, five of our top 10 from 2019 are no longer in the list. That said, you can still view three of these at the bottom of this article, as we believe they still represent fantastic value.
---
Best Multi Gym By Price Range
To begin with, we've highlighted the best home multi-gyms for various price ranges. Further down you can read detailed reviews of each of them, and compare prices, too.
Best Multi Gym Under £500
DKN Studio 9000
Marcy Eclipse HG3000
Best Multi Gym Under £1,000
Marcy GS99
Weider Pro 5500
Best Multi Gym Under £2,500
Life Fitness G4
PowerTec Workbench Levergym
Best Multi Gym Under £5,000
TuffStuff SXT-550 Hybrid Home Gym
Inspire Fitness FT2
Best Home Multi Gym Reviews
Here we have produced the best multi gym review list you'll find. We've covered the pros and cons, the features, what we love about each multigym and then linked to our price comparison pages to help you make the right choice. You might also find our multi gym price comparison page useful, too. On this page, you can filter by attributes, price range and features to help narrow down your search.
1. Life Fitness G4 – Best Value Multi Gym 2020
Last year, this gym had 10 online reviews, scoring a perfect 100%. This year, the gym has notched up a further 4 customer ratings, and guess what? It still has a perfect 100% score! We've labelled it our best value multi gym for 2020 because you need to spend more than £3,500 to find anything that comes close in terms of features and functionality.
By mimicking the body's natural motion, the Life Fitness G4 multi-gym allows users to move comfortably, which can lead to maximum results.
With 7 different pressing angles, the press station allows a wide range of exercises including incline and decline bench press, seated shoulder presses, and flat chest pressing.
Switching exercises is easy, so no need to worry about complicated cable adjustments!
Key Features
73 kg (160 lb) weight stack – upgradeable to 95 kg (210 lbs)
Optional leg press attachment
Adjustable back pad
Includes great accessories such as revolving lat bar, abs/triceps strap, ankle straps, low row bar.
Weight stack shrouds for added safety
Maximum user weight: 136 kg
Pros & Cons
PROS:
Very quick assembly time
Super comfortable
Wide variety of exercise options
Smooth operation
Available from a wide variety of retailers
CONS:
Heavy Machine
Not as small and compact as others
What We Love Most
The balance between price and functionality: it crams features only available in more expensive multi-gyms, and comes in at a price that seems wrong when you consider the versatility and upgradeability of this machine.
Verdict
Pound for pound, this is the best value multi gym available at the moment. At around £2,200, it is not going to be within everyone's budget, but you'll need to spend nearly twice as much to get anything that is noticeably better than this machine.
Compare Life Fitness G4 Multi Gym Prices
Bestgymequipment.co.uk
Fitnessoptions.co.uk
---
2. TuffStuff SXT-550 Hybrid Home Gym – Best Buy Multi Gym 2020
In our 2019 roundup, the SXT-550 only had one online user review. It now has two, and both reviewers gave it the full 5 out of 5. The features it packs are phenomenal. This is undoubtedly the reason it has won numerous awards (3 to date, so we have counted) and continues to be praised by anyone who uses it.
Key Features
90 kg (200 lbs) weight stack
Solid steel weight plates. Self-aligning, low friction sleeves
6 pre-set pulleys
Optional leg press attachment
Adjustable back pad
Product weight: 305 kg
Pros & Cons
PROS:
Exceptional build quality
Varied, pre-set pulley positions make exercise changes seamless
Heavy weight stack
Upgradeable with leg press attachments
Looks awesome
Huge range of exercises
CONS:
A very heavy piece of kit
Quite pricey
Requires regular maintenance
What We Love Most
The pulley system on this multi-gym is second to none. There's no need to invest in a separate cable machine or functional trainer if you have one of these in your home gym! In particular, we like the fact that exercises such as lat pulldowns can be alternated, thanks to the unique pulley cable design.
Verdict
There's no denying it: the TuffStuff SXT-550 is an expensive piece of kit. At around £3,500-4,000 (at the time of writing), this is only going to be available to those with the highest budget.
That said, it is worth every penny. The build quality, look, design and range of exercises, are all top-notch.
If aesthetics and exercise variety is important to you, this home gym is a must.
Compare TuffStuff SXT-550 Multi Gym Prices
---
3. DKN Studio 9000 – Best Budget Multigym
The DKN Studio 9000 is a new addition to our list. Out of 11 online reviews, this machine scored an incredible 98%. And at just £449 (at the time of writing) this is by far the best budget multi gym on the market in 2020.
Key Features
75 kg (165 lbs) weight stack
High maximum effective load of up to 165 kg
20+ exercises
low-friction cables for smooth operation
Maximum user weight: 130 kg
Product weight: 173 kg
Pros & Cons
PROS:
Great value for money, according to one user who thoroughly reviewed multi gyms before buying
Operates smoothly
Great range of exercises (20+)
CONS:
Takes a while to build – plan for 5 hours with 2 people
Weights increment in 10 kg which is quite a gap
What we love most
We love the price of this multi-gym. Coming in at under £500, the DKN 9000 gym is the best budget gym money can buy. If you're thinking of spending less (say £200 – 300) then we recommend putting in an extra couple of hundred and getting this one, as it represents truly exceptional value.
Verdict
Upgradeable with leg press attachment, a high effective load of 165 kg, and a wide range of exercises, there is no doubt that the DKN Studio Concept 9000 is a serious piece of home gym equipment. If you can stretch a lower budget, you certainly should, as this gym might be one of the best for under £1,000 – not just under £500.
Compare DKN Studio 9000 Prices
---
4. Inspire Fitness FT2 Functional Trainer – Best Cable Multi Gym
We love this machine, and customers do, too, hence its score of 97% from 15 online reviews. It is such a great, compact home gym, and despite the price, a big seller. It can be purchased on its own or as part of a package (something we highly recommend).
Key Features
2 x 73 kg (160 lbs) weight stacks (upgradeable)
8 pull-point fibreglass reinforced nylon pulleys
Integrated smith machine
Wide range of optional accessories
Compact without loss of function.
Product weight: 256 kg
Pros & Cons
PROS:
Very sturdy
Versatile – you can perform many exercises with many variations
Compact – even with the integrated Smith Machine bars, which make similar units by other brands take up far more space
Impeccable build quality
Clear instructions for easy assembly (though might take around 5 hours to build)
A smooth and quiet pulley system
CONS:
Not easy to use – especially if you're a beginner. However, there are many videos and tutorials which should help with this – check them out below.
Mediocre workout documentation – not enough for people to get the most out of the machine. However, there are apps which can be used which we discuss later in the workout and exercise section.
What we love most
The sheer versatility of this machine is what we love the most. With multiple pulleys and 32 positions – all adjustable with just one hand – this compact cable machine allows users to target every muscle group, safely. The inclusion of the smith machine function also means that you won't need to purchase separate equipment.
Verdict
The FT2 comes in at just under £4,000 for the whole package which includes SCS bench; 2 x 50 lbs weight stack upgrades; leg attachments; and the FT2 Leg Extension kit. Without the add-ons, it can be picked up for around £3,000 (at the time of writing).
Compare Inspire Fitness FT2 Functional Trainer Prices
---
5. Marcy GS99 – Best Marcy Multi Gym 2020
Marcy has a reputation for producing great gym equipment at affordable prices. As with our 2019 list, two Marcy multigyms have made the cut. The GS99 is the highest rated one this time around, scoring 97% from 27 online reviews.
Here's what makes this home gym so great:
Key Features
2 x 65 kg (145 lbs) weight stacks
145 kg effective load
Adjustable leg press
Independent chest press and shoulder press
Maximum user weight: 140 kg
Pros & Cons
PROS:
It has a high effective load of 145 kg, making for more resistance. This means that as you progress, it will take longer before there is any need to upgrade.
The independent chest prest, shoulder press and leg press attachments make for a wide range of potential workouts.
It is easy and straightforward to assemble, according to several customers who bought this multi gym.
The materials are high-quality, it is sturdy, and built to last, according to one reviewer.
CONS:
Not compact like other gyms in our 2020 list.
The dimensions listed online were not accurate. One user recommends 2.5 metres each way to ensure adequate room to use it.
What we love most
It is tricky to pick up a decent home gym for under £1,000 which includes a leg press. The GS99 is one of those rare examples. The chest press and shoulder press are independent, which means two people can use this gym at the same time – this is especially useful if you want to work out with a gym buddy (something we certainly recommend doing – both for safety and encouragement)
Verdict
If a leg press attachment is important to you, and you have a little extra space (2.5 x 2.5 metres, as suggested) then the Marcy GS99 Dual Stack Home Gym is for you. At less than £1,000, and with the option for two people to work out simultaneously, this is a fantastic gym to consider.
Compare Marcy GS99 Home Gym Prices
£876.84
in stock
1 new from £876.84
as of September 18, 2020 8:51 pm
Amazon.co.uk
---
6. Weider Pro 5500
Interestingly, this multi gym narrowly missed out on our top 10 in 2019. Instead, the 8700 was a higher-rated gym at the time. A year makes a massive difference, and with more reviews to consider, the 5500 has now proved itself worthy of this shorter list.
Key Features
85 kg (190 lbs) weight stack
Preacher curl pad
Adjustable seat
Safety shield
Precision bearing pulley system
Maximum user weight: 135 kg
Product weight: 150 kg
Pros & Cons
PROS:
Fantastic price
Great build quality
Versatile, with a good range of exercises
Looks good
Comfortable
CONS:
Takes a long time to build – 6 to 8 hours, and best off with two people working on it
Instructions are not clear, and some parts are not labelled
Difficult to train shoulders if you are tall (over 6 feet)
What we love most
We love any multi gym that comes with a preacher curl attachment! Also, the inclusion of the butterfly press makes this a highly versatile machine for the price range.
Verdict
If you're looking to spend less than £1,000, then the Weider Pro 5500 is a great option – in fact, at the time of writing, this particular gym is only £599, bringing it well below the £1,000 threshold for inclusion.
Compare Weider Pro 5500 Prices
---
7. Marcy Eclipse HG3000
The Marcy Eclipse HG3000 had the unfortunate title of being bottom of a "best multi gyms" list in 2019. However, it has held its place in the top 8, moving up from 10th last year.
I think at this point, it is also worth reiterating that every one of the multi gyms in this list scored 93%+, based on over 1,000 reviews. Even though this multi-gym appears in 7th place, it is still an awesome gym. And here's why:
Key Features
68 kg (150 lbs) weight stack
High and low pulley system
Preacher curl attachment
Maximum user weight: 135kg
Product weight: 117 kg
Pros & Cons
PROS:
Great quality
Looks nice
Comfortable
Good range of exercises
CONS:
Perhaps too small for people over 6' – especially for lat pulldowns, as you won't get a full stretch in your lats as it won't be high enough
Poor instructions
Assembly time is 6 – 8 hours
The seat is not adjustable
What we love most
The brand reputation: Marcy is fast becoming a leading name in home gym equipment, and for under £500, the only thing better than this is the Weider 8700.
Verdict
We think that at £400 or so (at the time of writing) you should consider spending an extra £100-200, and getting the Marcy GS99 Home Multi Gym – especially if you are taller, more experienced, or have small children or pets who might gain access to the machine.
Compare Marcy Eclipse HG3000 Prices
---

8. PowerTec Workbench Levergym – Best Plate Loaded Multi Gym 2020
The rugged and charming PowerTec WorkBench Levergym is another highly rated product. 52 online users reviewed this product, with 43 of them giving it the full 5 out of 5 stars.
Available in either black or yellow, this multi gym features plate loading and cables but does not come with weights.
Please remember that if you're looking to buy, you will need to get yourself some Olympic sized plates. That said, this multi gym does come in at the bottom end of the "Under £2,500 Multi Gym" category, so even if you spend a few hundred pounds on some awesome weight discs, it is still fantastic value.
Key Features
227 kg (500 lbs) weight capacity for press arms
136 kg (300 lbs) weight capacity for the cable machine
LeverGym Advantage easily replaces a barbell for effective, and more importantly, safe resistance exercise
Powerlifter-friendly: Simply remove the bench to access area for power moves including squats, rows, and shrugs
Support plate for PowerTec accessories
Linkage & Safety bar
Pros & Cons
PROS:
Great value
Sturdy & stable
Easy to use
Smooth action on the bench
Easily adjustable
Firm pads are more comfortable than alternatives
Great attachment selection
Feels safe to use thanks to the safe stopping point on the leverage arms
CONS:
Does not come with weights (but you can compare prices on weight plates, here)
Could do with more adjustment levels on the leverage bars
Is middle-of-the-road when it comes to the footprint.
What we love most
It's a plate loaded machine, a cable machine, and a multi-gym, all in one. Nothing more to say!
Verdict
If you're looking to lift heavier weights, this is the multi gym for you. With a maximum weight capacity of 227 kg (500 lbs) for the lifting arms and 136 kg (300 lbs) for the cable machine, this home gym offers far more resistance than any other gym in our list.
Compare Powertec Workbench Levergym Prices
---
Other Great Multi Gym Choices
We removed five gyms we love from our 2019 list. Of these, there are three which we still believe represent excellent value and are still top-selling products. We certainly encourage you to check them out, too, as sometimes there are deals which make them even more appealing.
BH Fitness G152X – Our Best Home Multi Gym with Leg Press 2019
Scoring a jaw-dropping 98% from 15 online user reviews in 2019, we present the BH Fitness G125X Global Multi Gym. Since its original inclusion, lower review scores have caused this awesome gym to slip out of the top spots. Still, it scored an impressive 92%.
Key Features
Includes leg press attachment
Includes dip station
75 kg (165 lbs) weight stack
Protective steel enclosure for maximum safety
Lateral and straight bar attachments
Maximum user weight: 100 kg
Product weight: 210 kg
Pros & Cons
PROS:
Leg press attachment
Quick assembly time (3-5 hours)
Clear instructions
Comfortable
Smooth operation
CONS:
Not as compact as other multi gyms.
Some users mentioned the pulley sticking a bit on the lowest weight setting.
What We Love Most
We love the inclusion of the dip station. As a compound move for your shoulders, triceps and chest, the dip is a perfect exercise and something which cannot be performed on many multi gyms. Normally you need to get yourself a separate station, which will inevitably take up more space.
Verdict
If space is your primary concern, this machine is probably not for you. At 174 cm x 200 cm, this machine has a footprint of 3.48 metres squared. Compared with the Marcy 81010's which is 1.3 metres squared, it is huge.
However, if space is not a concern, then this is hands down the best multi-gym for home use under £1,000. For us, the inclusion of the leg press attachment and dip station is what makes this machine stand out from anything else in the price range.
Compare BH Fitness G152X Prices
---
Weider Multi Gym 8700 – Best Mid Range Multi Gym 2019
Key Features
57 kg (125 lbs) weight stack
Up to 150 kg resistance on some exercises (due to cable friction)
Preacher curl pad
Weight shroud
Maximum user weight: 135 kg
Product weight: 108 kg
Pros & Cons
PROS:
Easy assembly
Great build quality
One user reported using this machine for 4 years, and it works just as well now as it did at the start
CONS:
Not as compact as other multi-gyms.
Weight increases on the low pulley are too much – increasing from 26kg, 38kg, 50kg etc.
Weights marked in lbs which can be a little annoying if you're used to working in kilograms
What we love most
The clever engineering allows for greater resistance when exercising. This means that, although it only has a 57 kg stack, it can feel much heavier – up to 150 kg on leg exercises, and 125 kg for chest press!
Verdict
We've looked online for hours and found nothing better than the Weider Multi Gym 8700 for under £500. If you want a sturdy machine, from an established manufacturer, with decent resistance, then this is the gym for you.
Compare Weider Multi Gym 8700 Prices
Bestgymequipment.co.uk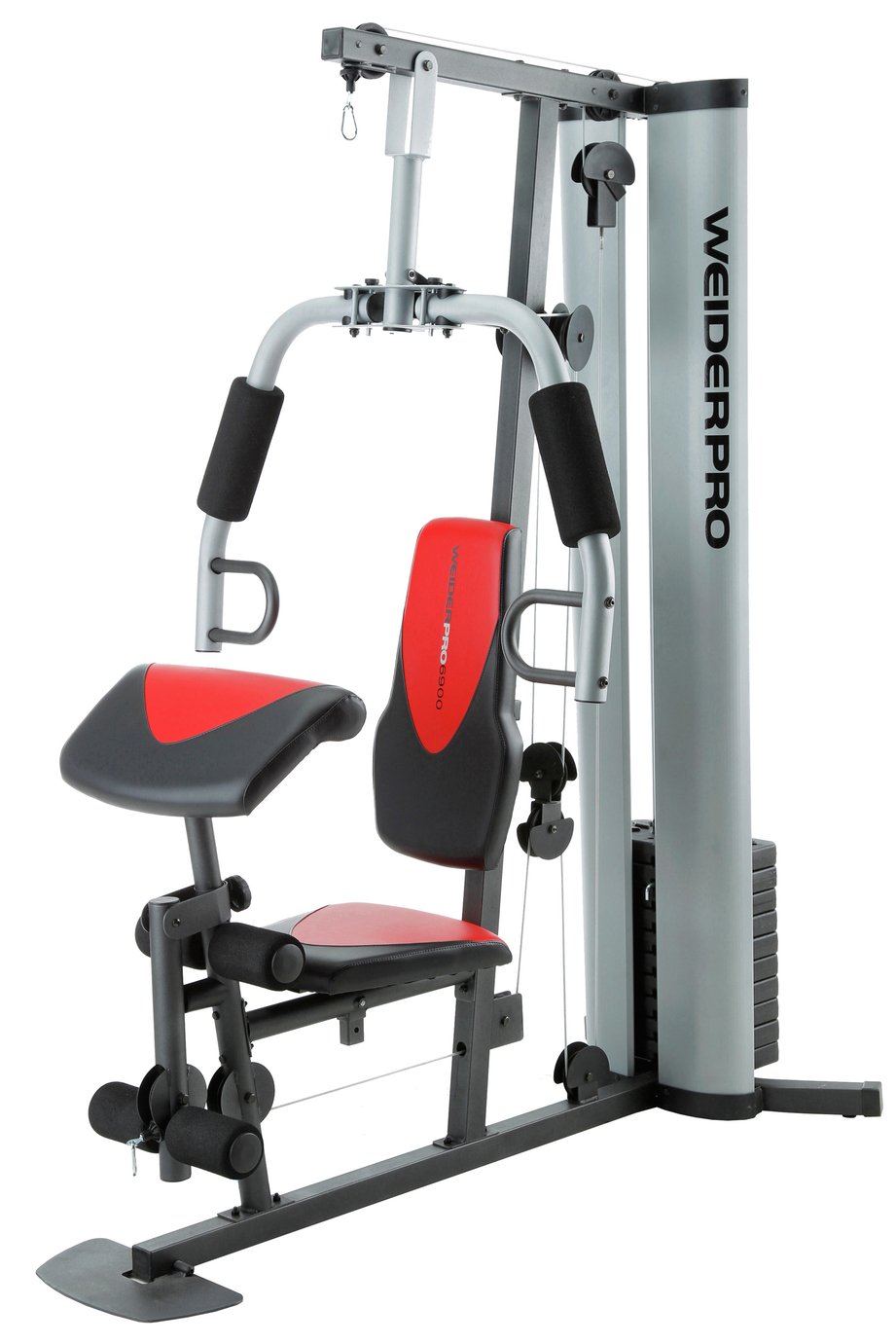 Argos.co.uk
out of stock
as of September 18, 2020 8:51 pm
Amazon.co.uk
---
Marcy MKM-81010 Home Multi Gym – Best Marcy Multi Gym 2019
The 81010 failed to make the 2020 list for best multi gyms, however, it still scored an awesome 86%.
It is worth noting that the dimensions stated online say that this machine is 132 cm long. However, upon investigation, users report that it is 190 cm from the wall to the end of the footplates. We have taken this into our calculation. Even then, it still has one of the smallest footprints in our guide.
Key Features
90 kg (200 lbs) weight stack
Great accessories such as lat bar, straight bar, ankle straps and exercise chart
Weight stack combination locks to ensure children can't use the multi gym if they discover it
Chip-resistant finish
Safety shroud – protection in case children or pets get near it by accident.
Maximum user weight: 135 kg
Product weight: 170 kg
Pros & Cons
PROS:
Very small footprint – only 1.9 metres squared
Clear assembly instructions
Great for taller people
CONS:
No leg press attachment
Assembly time can be 6 – 8 hours
What we love most
This thing is tiny! But as they say, good things come in small packages. Combine its small footprint with the huge weight stack and thoughtful safety features, and you can see why this made our top 10.
Verdict
If you have a budget of up to £1,000 to spend, but not much space, the Marcy MKM-81010 is the perfect solution.
Compare Marcy MKM-81010 Home Multi Gym Prices
---
How We Scored The Multi Gyms
We sorted a master list of home gyms by price range. We then looked online to find every user review we could find.
Using these scores, we calculated a percentage ranking.
However, some products only had a few online user reviews, so we needed to further investigate to provide a proper score.
All the multi-gyms which had fewer than 10 online reviews scored the maximum 100%, which made things difficult.
So, we considered the following when calculating the final score:
Is the multi gym space-saving – i.e under 2.5 metres squared? This is important because most people are looking for a small multi-gym. This is why they tend to opt for a multi-gym over a power rack, for example.
Is the weight stack greater than 75kg or upgradeable? When looking to gain strength and muscle mass, or even toning up, you'll need to increase the weight. Ideally, you want a machine that either has a large weight stack as standard or can be upgraded.
Is assembly time estimated at less than 8 hours? Easy assembly is something everyone wants when purchasing a piece of gym or fitness equipment for their home.
If 2 score the same, we looked for any defining feature that we thought made one more preferable than the other.
---
Home Multi Gym Buying Guide
Once upon a time, there was a guy called Jim. Before you ask, no, he did not invent the multi-gym. But that would make a fantastic story, wouldn't it? Anyway, let's get back on track with the important stuff so you can improve your knowledge and make the right choice!
With a huge range of products available, shopping for the right multi-gym can prove daunting. When deciding on which one is right for you, these are the attributes and features which should be considered.
Why Use a Multi-Gym?
Two of the main reasons people choose to buy a multi-gym are the versatility and space-saving aspects. You can set-up and perform a wide variety of excellent exercises in the comfort of your own home.
Needless to say, you'll find home gyms for all budgets, and while some are compact, others can be pretty large – especially when you begin adding leg press add-ons and other upgrades.
It is also important to remember that free weights such as dumbbells are an important part of any exercise regime. Multi gyms are great, but machines and cables can make lifting feel easier. This is because you are not recruiting stabilisation muscles. You can pick up cheap weight sets and kettlebells which take up little space to get you on your way to strengthening these areas in no time.
Types of Multi Gym
When you begin your quest to find the perfect multi-gym you'll find there's a wide selection to choose from. So, to get you started, here are some of the more common terms and phrases you are likely to come across:
Single station multi gyms – these don't take up as much space, and are more affordable options. A great place to start for those on a budget or who are new to training. In the single station arena, you will find things like leg curl machines, lever rowing machines and dipping stations. Pros, as mentioned are cost and space, cons are that they are limited – both in terms of exercises you can perform and scope for upgrading.
Dual station & multi-station multi gyms – comprising of multiple areas, a wider selection of exercises can be performed on these machines. Often, you will find there are extra weight stacks which allow multiple users to train at once. As you would expect, these tend to be more expensive than the single station options. Pro's are that you can perform a wider range of exercises when you train and that they are upgradeable with multi-gym accessories. Con's are that they take up more space and can be costlier.
Functional trainers – if you are serious about your training, you have space, and the budget, you will probably be more interested in these bad boys. They're versatile machines, featuring two height-adjustable cable columns. Each column has its own weight stack allowing for many exercises that will improve core strength, body balance and overall stability. Personally, I would love one of these in my gym, so I could do awesome exercises like cable flys. But the con's – space and cost – are holding me back. The benefits speak for themselves – so much you can do with these awesome machines.
Multi Gym Key Features
Weight Stack – if you're just starting out, you will want something that allows you to begin on a low weight – around 5kg or 10lb. But as you advance, you will need to ensure that you don't outgrow the multi-gym. For this reason, you should either look for a gym with a large weight stack (100kg/220lb) or one which you can upgrade by adding extra stacks as you increase in strength. Cheaper models will come with vinyl weight plate, whereas the better-quality model plates are made of cast iron. The difference? Cast iron weight stacks offer a smoother range of motion and are more durable.
Cables & Pulleys – this is probably the last thing on your mind, but I can tell you from experience that the cheaper PVC coated cables (or wire rope, as it is sometimes called) and plastic bushings won't last long. These lower quality components also create friction which can make the weight feel heavier. Grinding, squeaking and shaking are the results, so certainly something worth considering. Look for machines with nylon coated galvanised steel wire, or if the budget allows, aircraft cable coated with black pressure-extruded nylon.
Build Quality – we're probably stating the obvious here, but a better quality multi gym will be built with higher standard parts and components, and will – in most cases – cost more. Better built models will come with heavy-gauge tubing, solid welds and steel frames. A good way of broadly determining build quality is by the maximum user weight. Those with a higher max weight tend to be more sturdily manufactured.
How to Use a Multi Gym Safely
Your personal safety is highly important when operating multi-gym equipment – or any fitness equipment, for that matter.
Weight stacks are often used in multi gyms. These can be hazardous if adequate precautions are not taken. This is because there is a risk of crushing. Be vigilant when adjusting the pin as not to trap your hand between the weights. If you have toddlers or young children, ensure that they are kept away from the multi gym at all times. You can purchase a shroud for the weight stack to protect when not in use. This is certainly recommended if you have children.
We advise you to consult your doctor before starting any kind of exercise or workout programme to minimise chances of, or to prevent injury.
Other Factors to Consider When Buying Multi Gyms & Home Gyms
A few things we thought are worth mentioning. They might sound silly, at first, but believe us when we say – many people have spent a lot of money on a multi-gym, only to find that – for whatever reason – they could not use it
Dimensions – sounds silly, but really – you must check the width, height and depth of the home gyms you're considering buying. Measure the space you want to use, and look at the dimensions. On the Fitness Savvy website, we have tried to include as many specs as we could, but remember, manufacturers and retailers are constantly changing models, and even a small change to dimensions on a new production run could mean the item does not fit as required.
Space – following on from dimensions, don't buy something that will "just about" fit in the dedicated space. Always allow several inches each side of the multi-gym. If in doubt, take a look at the manufacturer's website to see if there is anything else need to know. A classic example is that the item is one width at the bottom, but wider at the top. Keep this in mind. Also, if you plan on buying a rowing machine or stepper for your set-up, these take up lots of space – and if you want a treadmill, then you really will need to plan carefully.
Your height/weight – if you're standard height you should be okay. What's standard height, I hear you cry… well if people often say – "Crikey, you're tall!" or call you "shorty", chances are, you're not a standard size. If the multi gym does not have adjustable seats you might be too short or too tall to use it comfortably. If you're wider than the average bear – be that super buff, or maybe carrying extra weight that you're looking to shed (with your brand new, shiny multi-gym), then the machine might be too narrow for you – defeating the whole point of it!
Our Final Words
Exercising has a ton of health benefits. That's what we want to promote, here at Fitness Savvy. Cardio is great; however, resistance training is an absolute necessity for improving body composition, increasing insulin sensitivity and upgrading your overall general health.
And what better way than with a multi-gym, where you can perform complete body workouts from the comfort of your own home?
We could go on all day about what you should, could or might look for in the perfect multi-gym, or what we would recommend for this, or for that. But we haven't got all week to write it, you haven't got all day to read it, and we want to keep this as short and sweet as possible. Just remember to look for a product that suits your size, is safe for you and your kids or pets (if you have them) and has enough weight to keep you going.