Welcome to Fitness Savvy's hex dumbbell buying guide.
Unlike other review sites that hide prices, we include price comparison tables so you can choose where to buy your hex dumbbells from.
We'll jump straight into the best hex dumbbell rankings. However, if you want to learn more about why to buy hex dumbbells, which ones to avoid, and how we scored them – you can head to the bottom of this article to read that first.
Overall Hex Dumbbell Rankings
Before we go into detail, here's the list of the best hexagonal dumbbell weights.
The Best Hex Dumbbells 2023 – Detailed Review
1
MuscleSquad Hex Dumbbells
MuscleSquad dumbbells have received fantastic customer reviews – scoring an incredible 4.9 out of 5.
In addition, these hex dumbbells are cheaper than the competition.
We've updated our guide for 2023, and they still make the top of our best hexagonal dumbbell list for these reasons.
MuscleSquad's TrustPilot score is excellent, proving they know exactly how to look after their customers.
The range of weight loads is also high – you can pick up sets from 1 kg to 50 kg. They are available in 1 kg increments up to 10 kg (including 2.5 kg and 7.5 kg) and then in 2.5 kg increments to 50 kg.
This range of weight options is unrivalled, and there isn't anything to dislike – they'll suit anyone – no matter their budget or fitness goals.
Compare Prices for MuscleSquad Hex Dumbbells
£32.00
in stock
as of December 8, 2023 8:25 pm
£55.00
in stock
as of December 8, 2023 8:25 pm
---
2
JTX Hex Dumbbells
JTX Fitness has made a name for itself thanks to its phenomenal customer service.
Like many home gym equipment manufacturers, JTX stocks hexagonal dumbbells.
The JTX free weights cost a little more than others on our list; however, you're guaranteed quality and excellent customer care.
You'll also discover a great range of cardio equipment on the JTX website to complement your strength training goals.
The only downside is that JTX (unlike MuscleSquad and DKN Fitness) does not offer a wide range of weight loads. While others, such as MuscleSquad and DKN, provide many increments, JTX is limited to 2 kg – 20 kg in 2 kg stages.
These hex dumbbells are perfect for those who don't need to go too heavy and are happy to invest a little more for guaranteed quality and excellent customer care.
Compare Prices for JTX Hex Dumbbells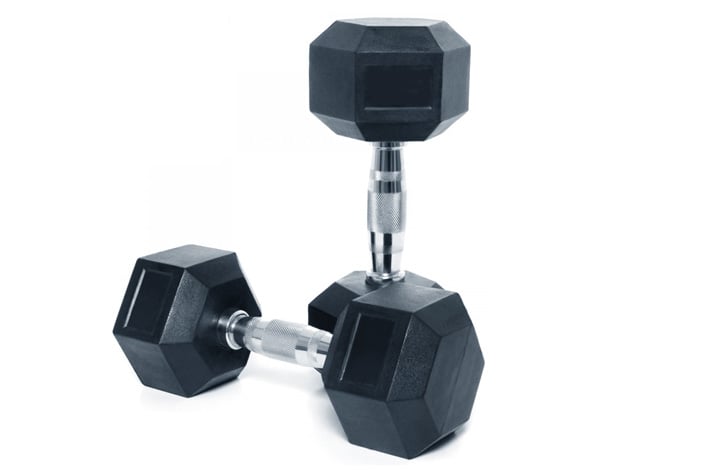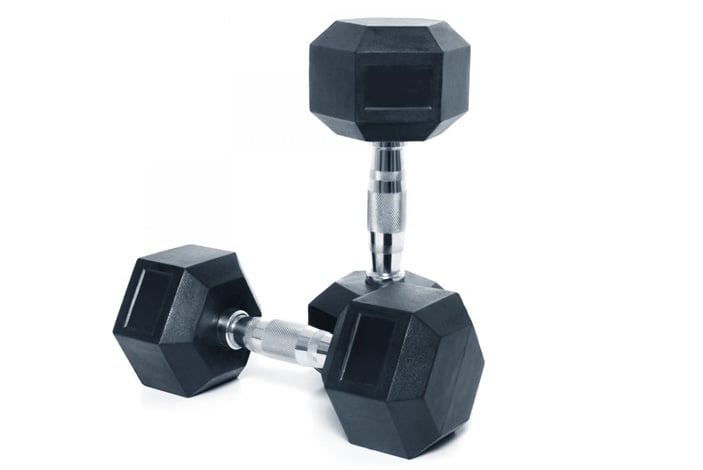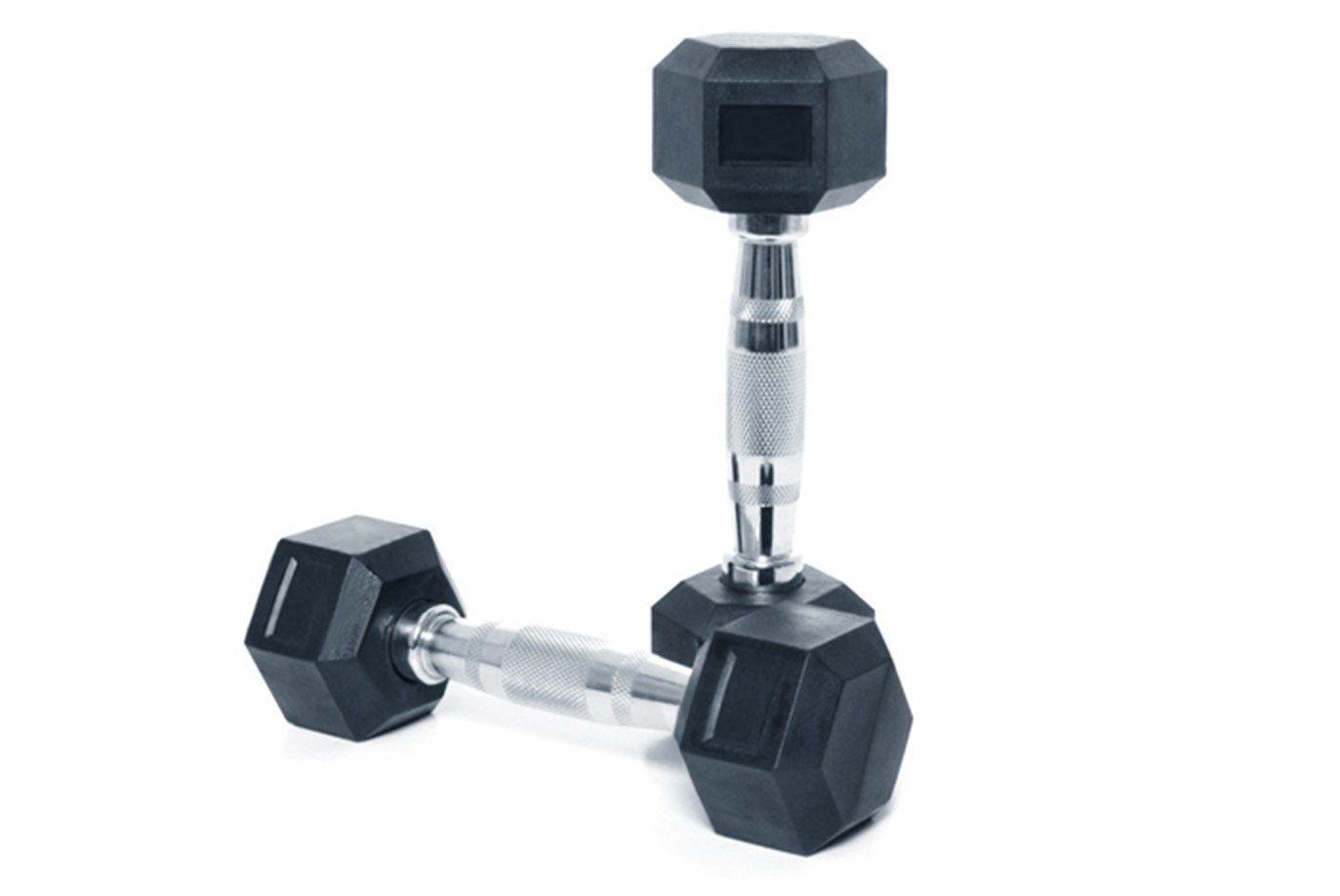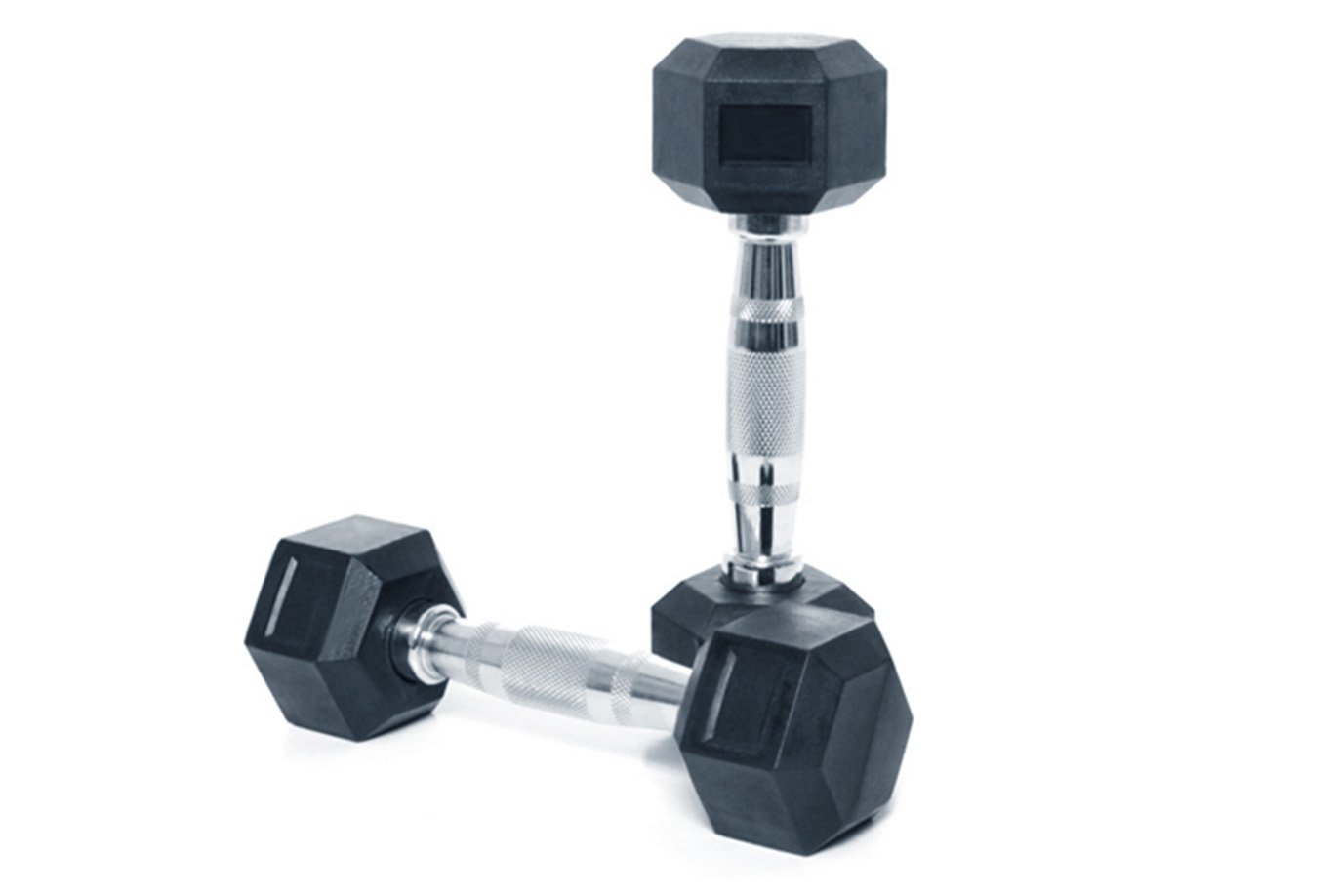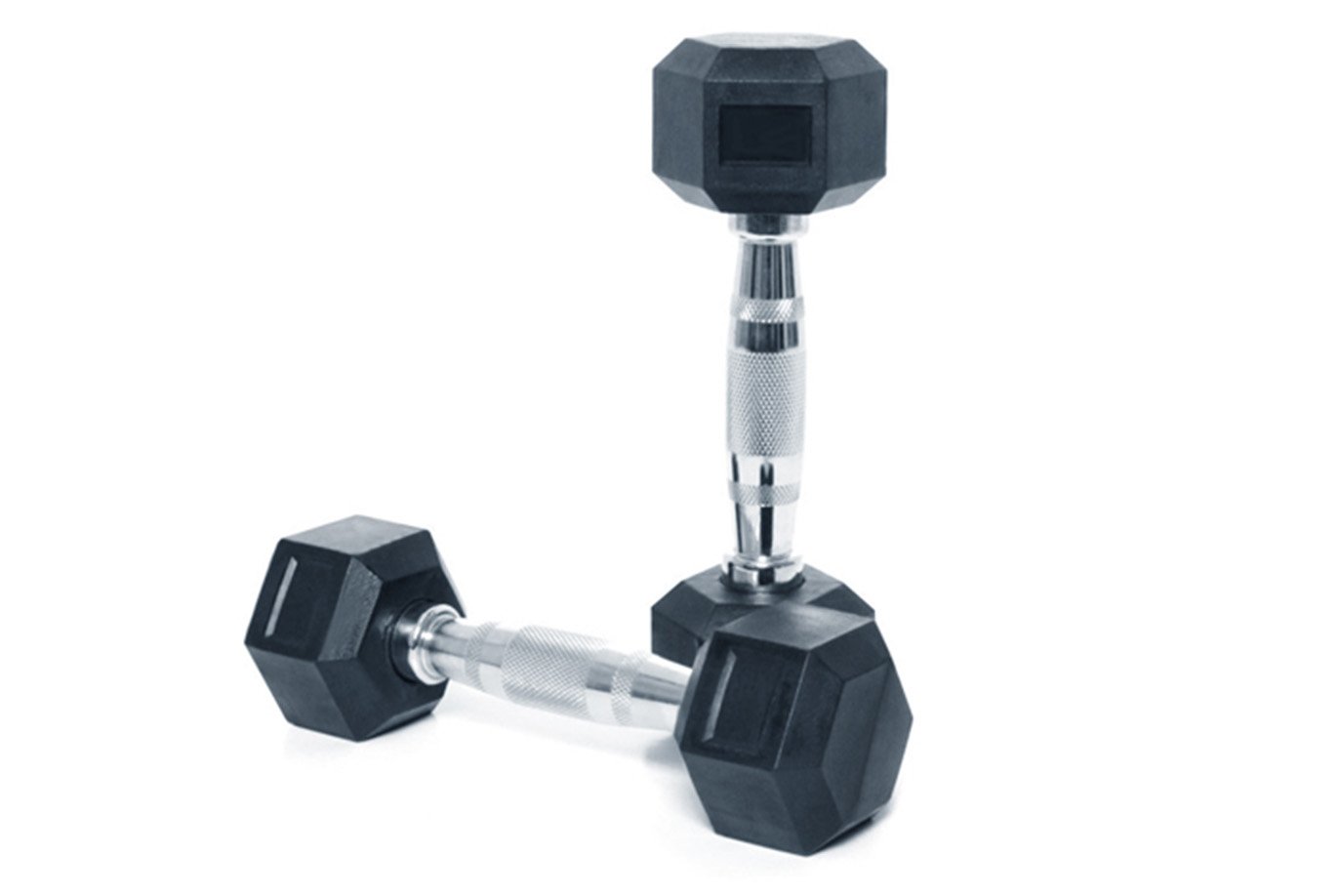 ---
3
DKN Hex Dumbbells
DKN's offering arrives at number 3 in our best hex dumbbells roundup.
We must admit that there's not much in it regarding hex dumbbells.
What we mean here is that you're not having to compare technical features or maximum user weights like you would when choosing a treadmill or a spinning bike.
It comes down to the weight-load options, customer service, weight accuracy, and product quality.
DKN's rubber hex dumbbells are accurate, good-quality weights. They're sold through reputable retailers, so you'll receive good customer care.
Regarding the weight load options, you can pick these up in singles or pairs from 1 kg to 30 kg. The increments are the same as with MuscleSquad but stop at 30 kg.
The only thing letting these weights down is the weight load options when compared with MuscleSquad.
We recommend these dumbbells for those who require a retailer with a more established presence. While MuscleSquad is gaining popularity, they are still a relatively new company. These dumbbells will also be a great option when MuscleSquad are out of stock.
Compare Prices for DKN Hex Dumbbells
---
4
Body Revolution Hex Dumbbells
Body Revolution is another recognised fitness brand.
While these dumbbells will do the job, some customers have questioned the quality. With that said, all fitness equipment manufacturers will produce faulty goods at some point – the main thing is – is the exception or the norm?
The vast majority of customers on Amazon praised these dumbbells and their quality. Although this is the case for the majority, some people did report that these hex dumbbells fell apart after a short while – even when stored correctly and used properly.
A wide-ranging weight load is available – as with MuscleSquad and DKN. The lower weight load range includes pairs from 1 kg to 10 kg (in 1 kg increments) and then from 10 kg to 40 kg in 2.5 kg steps.
They're not the cheapest on our list; therefore, we recommend these dumbbells if they're on offer or when other suppliers are out of stock.
Compare Prices for Body Revolution Hex Dumbbells
---
5
Vital Gym Hex Dumbbells
Towards the end of our roundup, we've included other options to consider.
Customers rated Vital Gym's dumbbells as highly as MuscleSqaud, and the price is similar (lighter dumbbells are dearer than MuscleSquad and the heavier weights come in slightly cheaper – so it balances out).
The quality is excellent, as confirmed in customer reviews. However, the load options are limited, so they have a lower Savvy Score.
The Vital Gym dumbbells can be purchased from 5 kg to 20 kg, moving up in 5 kg increments.
When lifting weights to build muscle, you need to progressively overload. Ideally, you should opt for weights that increase in 2.5 kg increments for 10 kg+ and 1 kg increments below 10 kg.
Think about it like this: shoulder workouts such as lateral raises require a much lighter weight. You might start at 3 kg on each arm. You don't want to start at 5 kg and then progressively overload to 10 kg – the 10 kg will be far too heavy.
You want to start light and move up gradually. This cannot be done with the Vital Gym hex dumbbells.
With this in mind, we recommend them only for people who want to perform compound workout staples such as deadlifts, bench presses, squats etc. These loads will be too much for isolation exercises such as biceps curls and triceps kickbacks.
Compare Prices for Vital Gym Hex Dumbbells
---
6
Pro Fitness Hex Dumbbells
The final hex dumbbells on our list are the Pro Fitness Hex Dumbbells.
We mainly included these because they are available from Argos.
Everyone knows Argos; you can easily order these and pick them up soon after.
They are priced well and received excellent customer reviews.
Unfortunately, they only come in 3 sizes (5 kg, 10 kg and 15 kg), so like those from Vital Gym, they won't allow users to progressively overload efficiently and safely.
These dumbbells are perfect for those who want some medium-load weights and want to get their hands on them the same day, in typical Argos fashion.
Compare Prices for Pro Fitness Hex Dumbbells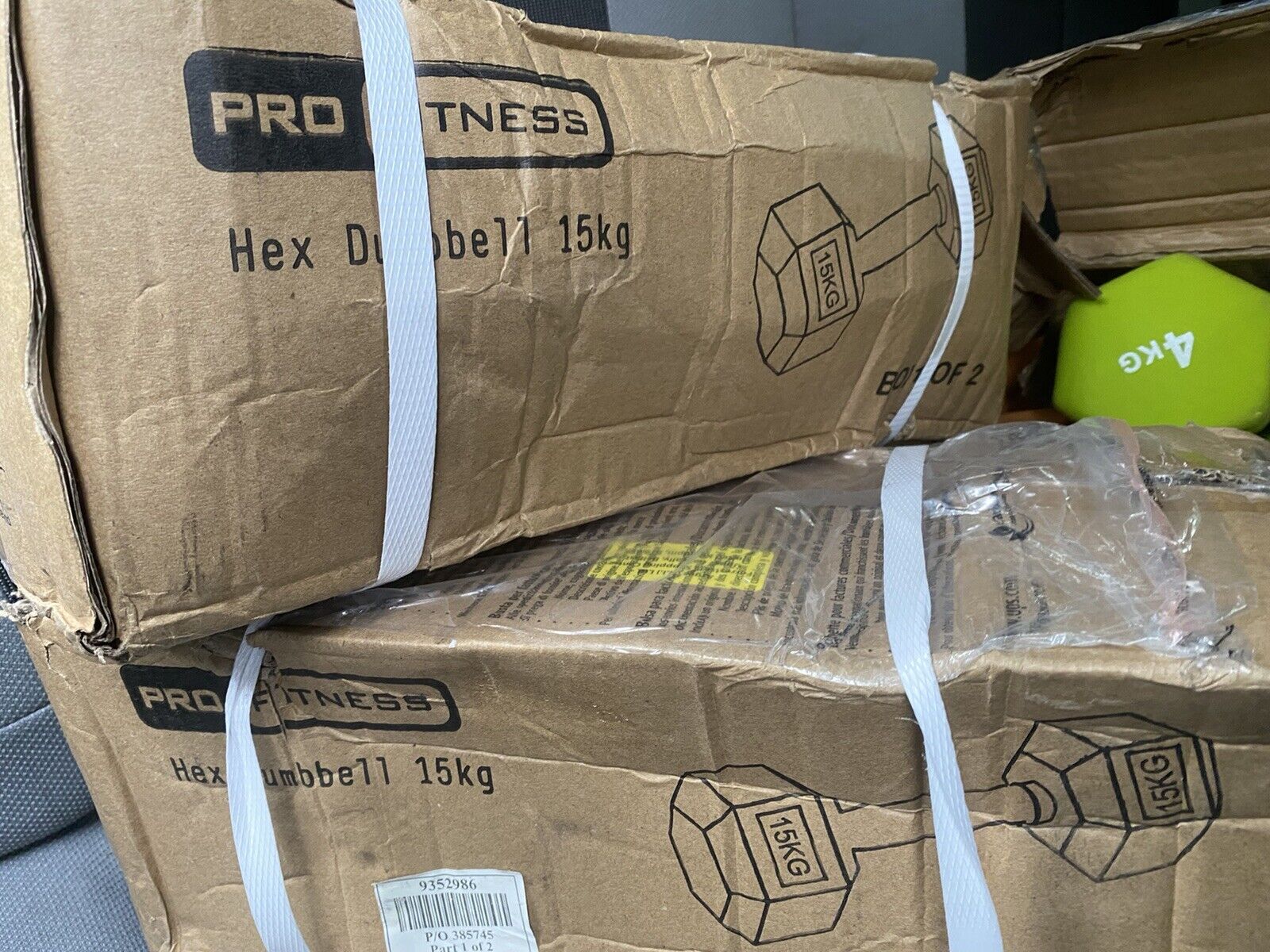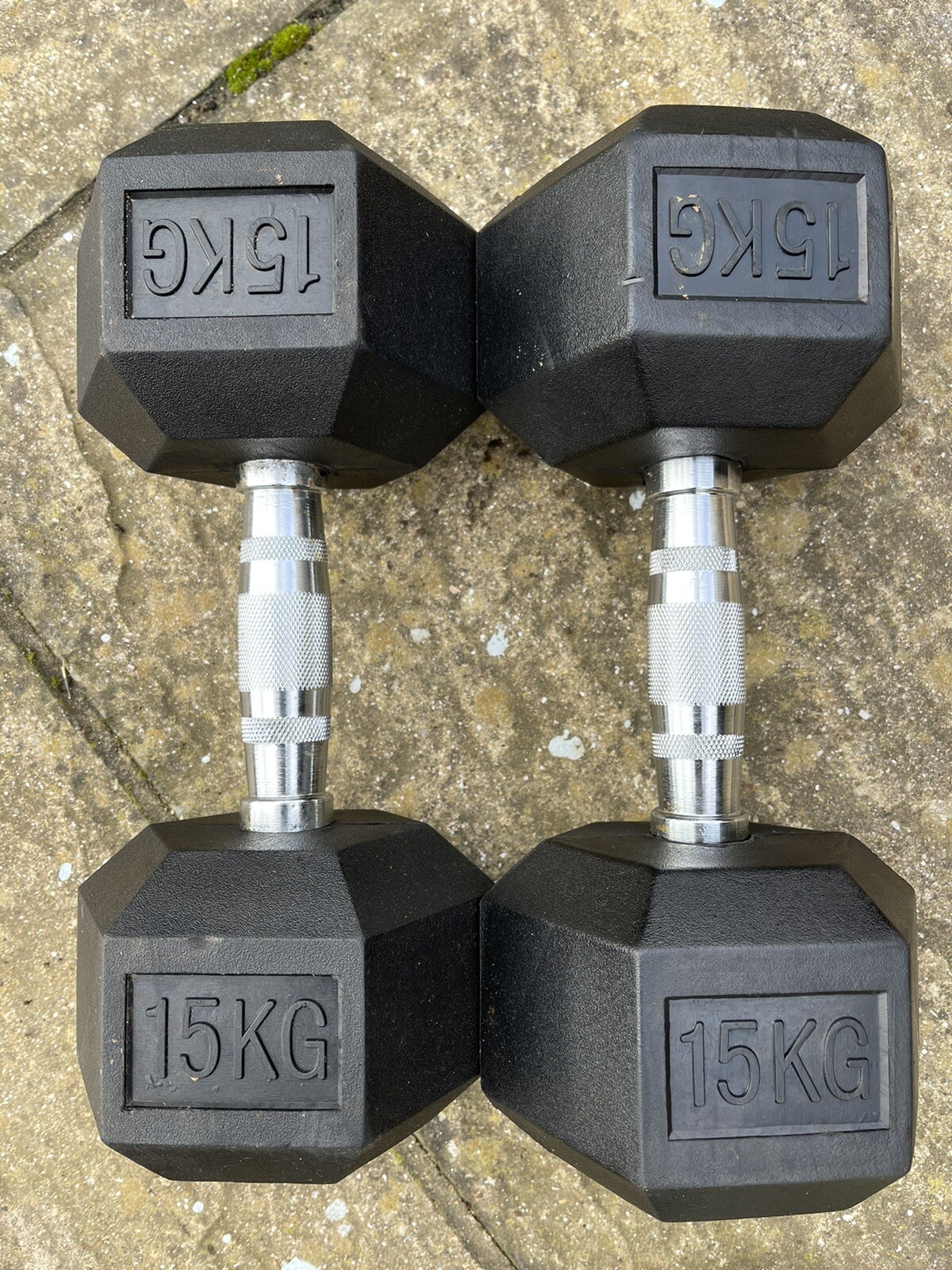 ---
Best Of The Rest
There are a lot of dumbbell brands out there. We've excluded those we deem very poor quality or don't have customer reviews.
That said, the ones below might take your fancy – so be sure to check them out in case they are better suited to your needs or your experience level.
---
Why Buy Hex Dumbbells?
Many people now opt for adjustable dumbbells because they are a convenient, good value, space-saving option.
Unfortunately, adjustable dumbbells have drawbacks – one example is that they are often bulky. This makes performing certain exercises a little bit more uncomfortable than they need to be.
Another problem with adjustable dumbbells is that they can't be dropped. This might sound silly if you're starting out; however, if strength gains are a priority, you'll need to lift heavy. Once you reach a certain stage, dropping the dumbbells becomes part and parcel of the daily workout routine.
We highly recommend investing in a decent set of hexagonal dumbbells for those with space in their home gym.
They're long-lasting and durable, they can be dropped, you can change weight quickly, and their shape makes them ideal for other exercises.
Generally speaking, many customers who buy hexagonal dumbbells are pleased with their purchase and believe they are worth the investment. You'll also find options to suit any budget.
Which Hex Dumbbells to Avoid
It might seem strange, but we're also including which hex dumbbells to avoid in this guide. For example, these on Amazon have been featured in other Best Dumbbell Guides.
It's hard to understand how other bloggers have included these because they're not even the correct weight! Numerous customers have complained that each dumbbell is up to 500 grams lighter than advertised.
Some people have even posted images, too, verifying the inaccuracy. That said, they are cheaper than all the others on our list – so if you want to save a little bit of cash and don't mind that they aren't the exact weight advertised, knock yourself out.
We also found numerous customer reviews criticising MiraFit dumbbells for smelling strongly of chemicals.
In our guide, we've checked out the customer reviews to weed out any dumbbells which appear to be inaccurate or poorly made. After all, this is the best hex dumbbells article.
How We Scored our Hex Dumbbells
Customer rating
The most important thing when rating dumbbells is the customer score.
These people have parted with their hard-earned cash and taken the time to leave a review.
You'll often notice that they are more honest with their feedback than dedicated review websites (who get paid for their opinion or receive free products in exchange for good reviews).
Price
Hex dumbbells are all quite similar. They are a rubber-coated weight with a chrome knurled handle.
Considering this, the price is a huge factor.
If two weight sets are identical in every other aspect, you would want to purchase the cheaper one. For this reason, we factor the overall price into our Savvy Score.
Accuracy
While compiling our hexagonal dumbbell guide, we encountered a few dumbbell brands that supply inaccurate weights.
One way to compare dumbbells is by calculating how much you're paying for each kilogram of weight.
That becomes hard when each dumbbell is nearly 500 grams less than advertised. We've rated the most accurate dumbbells more favourably.
Quality
We left other dumbbell brands off of our list due to quality concerns.
In addition to spending hundreds of hours reading thousands of customer reviews, we test the weights ourselves.
If the quality isn't there, we won't include them just for the sake of it.
Weight range
Some dumbbells – such as the Pro Fitness Hex Dumbbells – only come in three sizes, ranging from 5 kg to 15 kg.
This isn't good if you need a light dumbbell for shoulder workouts such as lateral raises or heavier dumbbells for compound moves such as Romanian deadlifts and bench press.
Other brands provide more options. This means you can upgrade your set-up to include heavier weights as you progress. It also means that you needn't worry about mixing and matching different dumbbell brands (which all have a different feel).
Final Words
Choosing the best hex dumbbells for your home gym set-up might seem daunting. After all, there are many options with little difference between them.
Hopefully, our guide has helped demonstrate what factors go into a higher-scoring dumbbell.
If we've done a good job with this guide – or if we haven't, be sure to leave a comment so we can continue improving.
Discount Codes
Finally, for good measure, here are some exclusive discount codes that might help you save on your purchases!